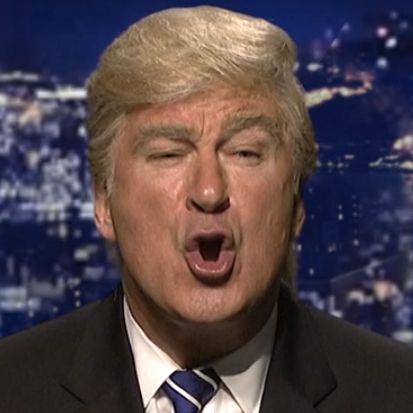 Photo: Saturday Night Live/NBC/YouTube
The tape of Donald Trump and Billy Bush, in which the presidential candidate comments on the pleasures of grabbing women "by the p—y," was a gift from the gods for Saturday Night Live. The show's cold open starts off riffing on the vice-presidential debate, but quickly redirects to CNN's Brooke Baldwin (played by Cecily Strong) quizzing Trump (Alec Baldwin) about his comments. SNL takes full advantage of its late-night slot and the arcane rules of broadcast standards and practices to use the p-word a whole bunch, because why not?
Trump double downs on his promises of groping during his "applogy" — "Women, if you give me a chance, I promise I can do a whole lot more than just grab it. I can also bop it, twist it, and pull it" — and later is overheard on a hot mic saying more of the same. (Strong's full-body cringe nearly steals the scene.)

Cut to Hillary Clinton's headquarters, and it's all champagne bottles and that HRC shimmy. "It's my reward, Brooke, for every single thing I've been through in the last 30 years. Whitewater, Benghazi, Mary J. Blige singing into my face for a full hour last week."
Check out the clip below.