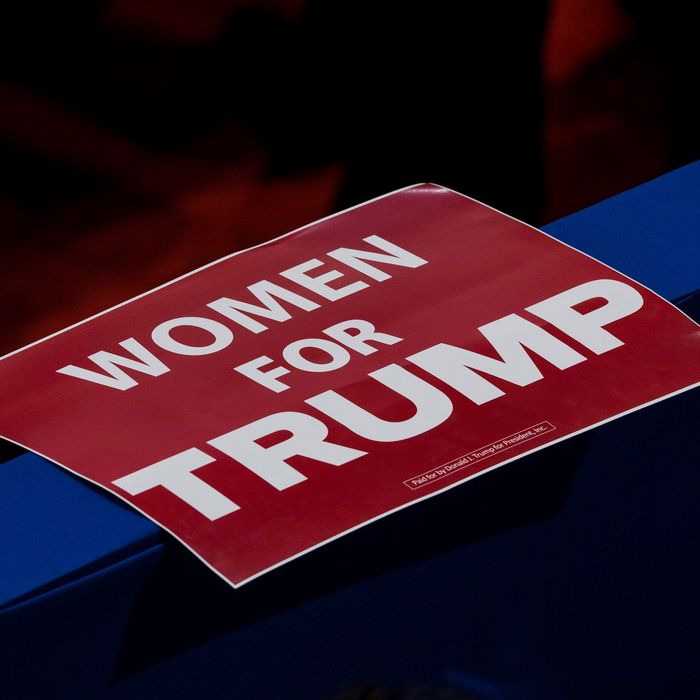 Nope.
Photo: Anadolu Agency/Getty Images
Social media exploded after a video surfaced of Donald Trump talking with Billy Bush about sexually assaulting women. Trump, apparently not realizing he was on a live mic, told Bush, "And when you're a star they let you do it. You can do anything. Grab them by the p—y. You can do anything." (Bush has since apologized for gamely playing along, but that's unlikely to matter if he has to face his aunt, former First Lady and anti-Trumper Barbara Bush, over the Thanksgiving turkey.)
Last night, writer Kelly Oxford began tweeting about her own sexual assaults. "Women: tweet me your first assaults. they aren't just stats," she tweeted. Women began sharing their own experiences using the hashtag #notokay, and the results have been overwhelming. "1hr ago I shared my sexual assault & asked if you could do the same. Look at my timeline. 1000's of stories. We must discuss. Not our shame," Oxford wrote. (Of course, there were a lot of horrible anonymous Twitter users who took advantage of the hashtag to harass women, but what else is new?) This morning, Oxford tweeted, "women have tweeted me sexual assault stories for 14 hours straight. Minimum 50 per minute. harrowing. do not ignore. #notokay"
As for Trump's own history of being the attacker, numerous women came forward to the New York Times to describe being sexually assaulted by him over the years — not to mention the recently refiled lawsuit from a Jane Doe that alleges Trump raped her repeatedly when she was 13 at the apartment of convicted sex offender Jeffery Epstein. (The previous link includes graphic details from the suit.)
So far, the presidential candidate's most recent reply is simply as follows:
At least it was shorter than his video apology last night.