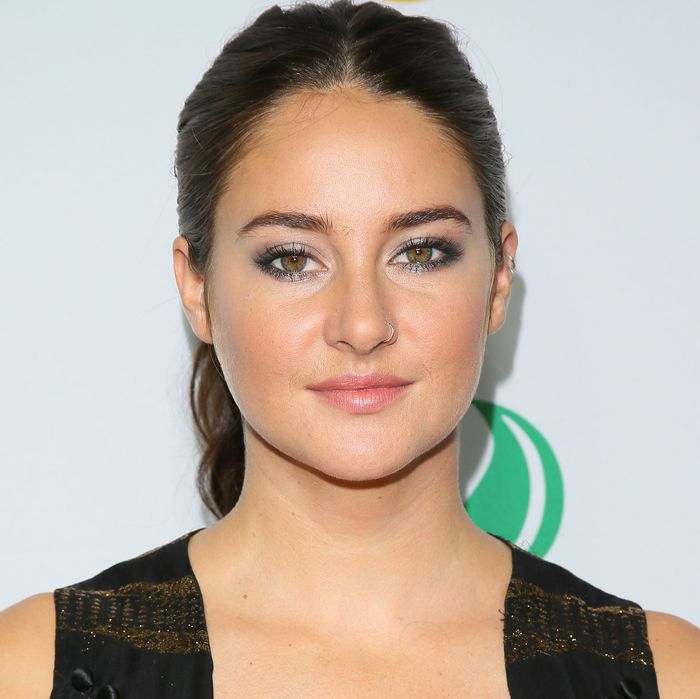 Shailene Woodley.
Photo: JB Lacroix/WireImage
Shailene Woodley was visibly emotional at the 26th Annual Environmental Media Association Awards on Saturday as she gave a speech about the need for stopping the Dakota Access Pipeline and helping ensure the availability of clean water.

Activists have warned about the inherent risks of water contamination in the area near Standing Rock Sioux ground in North Dakota, where the pipeline is set for construction. It's an issue that's near and dear to Woodley, who was honored at the event along with Jaden Smith for her work on the environment. With tears in her eyes, Woodley spoke about the ongoing Dakota Access Pipeline protests and recent arrests:
"One-hundred-and-eight of our brothers and sisters got arrested today for protecting clean water for not only those of us who are alive right now, but those of us who are to come … I want to make sure that my grand-babies won't have to buy a bottle of water for $20, because clean water is impossible to find … our water isn't being contaminated, it is contaminated."

She continued: "What's really important is standing up and making our voices so loud that they have no choice to ignore us. Go to Standing Rock … the time is now. We don't have any more time."

Woodley has been vocal in the past about the Dakota Access Pipeline and most recently penned an essay in Time about her arrest while protesting the pipeline's construction. "When the Dakota Access Pipeline breaks (and we know that too many pipelines do), millions of people will have crude-oil-contaminated water … If you are a human who requires water to survive, then this issue directly involves you," she wrote.

Woodley's words seem to have struck a chord with people. She got a standing ovation at the EMAs.