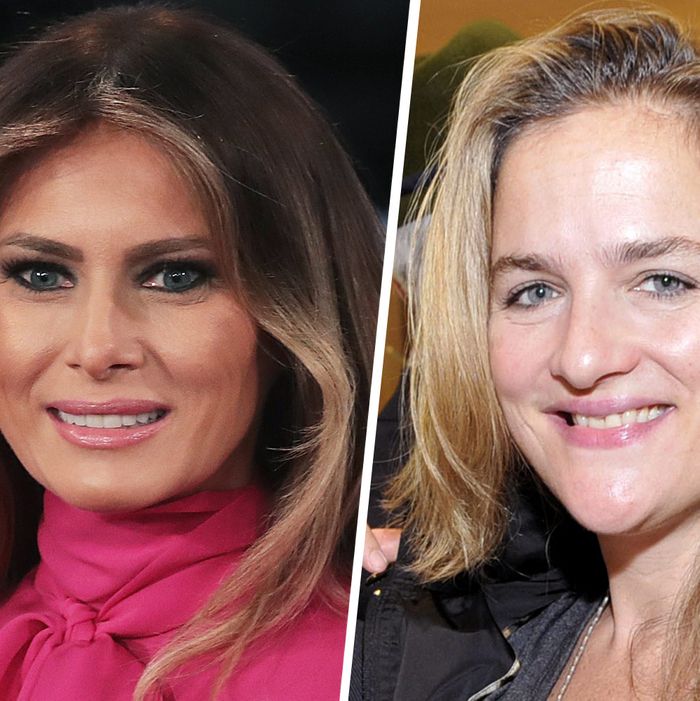 Melania Trump and Natasha Stoynoff.
Photo: Getty Images
After former People magazine reporter Natasha Stoynoff wrote a first-person account for the magazine about being sexually assaulted by Donald Trump, Melania Trump threatened to sue her. It wasn't the accusation Mrs. Trump objected to, but the allegation that, after the fact, she and Stoynoff had run into each other on the street outside Trump Tower:
That winter, I actually bumped into Melania on Fifth Avenue, in front of Trump Tower as she walked into the building, carrying baby Barron.

"Natasha, why don't we see you anymore?" she asked, giving me a hug.

I was quiet and smiled, telling her I'd missed her, and I squeezed little Barron's foot. I couldn't discern what she knew. Did she really not guess why I hadn't been around?
In a CNN interview with Anderson Cooper on Monday, Melania repeated her claim that, "I was never friends with her; I would not recognize her." But on Tuesday, People produced six witnesses to corroborate Stoynoff's story, and one, Lisa Herz, was there during the alleged run-in.
"They chatted in a friendly way," Herz — a college friend of Stoynoff's — told People. "And what struck me most was that Melania was carrying a child and wearing heels."
Five more witnesses — two of Stoynoff's editors at People, one co-worker, a former journalism professor, and a long-time friend — said Stoynoff had confided in them about the encounter with Melania Trump. All said Stoynoff chose not to come forward with the story at the time because she wanted to remain professional and because she feared retaliation. "I advised her not to say anything, because I believed Trump would deny it and try to destroy her," her former professor said. "It was [a] tough decision but in a he said/she said, we believed she would lose."

Mary Green, the magazine's deputy East Coast news editor, remembered Stoynoff telling her the story in December 2005. "She talked about her shock, and wondered why it had happened, if she had done anything wrong," Green said. "I assured her she hadn't. She was also angry that he had forced himself on her, that she was glad someone had interrupted him, because he was surprisingly strong."