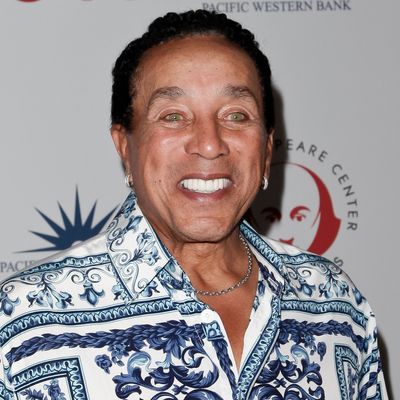 Smokey Robinson.
Photo: Tibrina Hobson/WireImage/Getty
Smokey Robinson wants me to touch his face. This much I gleaned when he led the back of my hand over one of his glistening, Motown-blessed cheeks. His skin felt incredibly smooth, like a plump balloon, smooth vegan leather, or a polished Granny Smith apple. "See what I mean?" he says. And I do, which is important to note because these days Smokey's cashing in on the promising capital of beautiful, perfect skin.
It took two years for Smokey and his wife Frances to develop their skin-care brand, Skinphonic, where the individual men's and women's lines are named after two of Smokey's songs. In the beginning, the line wasn't aimed at the masses. "We just wanted it for ourselves," Frances told me. "When it came out so good, we were like, wait a minute, we need to share this with the public."
If you ask Smokey and Frances what Skinphonic does for your skin, they'll tell you the same thing: everything. Clinical trials back up their claims that the system softens fine lines, reduces hyperpigmentation, and brightens skin tone in as little as two weeks. It's also, they mention, specifically developed for people of color.
It was at the brand's debut to the public where I met Smokey and Frances. I found myself in a midtown condominium draped in the specific acrylic and white décor attuned to the tastes of an '80s mid-level executive. I later found out this is the same building where Puff Daddy is trying to shill his two-bedroom spot for $6.5 million. The standard journalists and PR reps were in attendance, but this press event was different for its throng of senior citizens. Most events are replete with jaded industry insiders, but not here — the elder set arrived in multitudes, sipping Champagne and mingling about. They orbited Smokey all night as if he were a shiny new box of high-fiber cereal on sale at the grocery store. One by one, elderly men pushed me aside so that they could get a photo with the Motown great. Just when you're confident that you're hot stuff, along comes a musical legend to knock you right back in your place.
When it was my turn to meet the couple, I first spoke with Frances, who told me how her friends can't get enough of My Girl, Skinphonic's line tailored for women. Did that include close friend Tina Knowles, I asked? Frances danced away from a direct answer, and instead evoked the memory of a recent European vacation with Tina — a vacation sponsored by Magic Johnson as he celebrated his 25th wedding anniversary with wife, Cookie. "We went to Monaco, Saint-Tropez, Cannes … There were three yachts. It was fabulous and Tina was on my yacht," Frances told me.
There are five products in the My Girl line: an AM Hydration cream, a Twice Daily Cleanser, a Treatment Complex, a Refining Serum, and an Intense Eye Therapy Solution. Each were made in collaboration with a plastic surgeon, Dr. Edward Dickerson. The cleanser is a standard soapy formulation, packed with a slightly medicinal scent. The Refining Serum is the product of sugar exfoliants and salicylic acid, and the Treatment Complex houses more of the same, with the addition of retinol. The eye serum, enclosed in a metal-tipped rollerball so it feels cool as it touches skin, also stores a healthy amount of actives, like retinol and fruit acid, while the Hydration Cream feels wonderfully moisturizing without packing the unfortunate by-product of grease.
By the time I slipped past Smokey's gate of geriatric groupies and reached the man himself, he was brimming with pride. "There's nothing like it," he told me, talking about the companion men's skincare line Get Ready Cause Here I Come. "It was designed for people of color, from light beige to dark brown."
The distinguishing elements between the men's and women's lines are difficult to parse, but there are differences. The men's cleanser, for example, is less creamy than the women's, through it smells generally the same. The two PM Treatment Complexes and eye therapy treatments, on the other hand, appear virtually identical. As does the men's Overnight Serum and the women's PM Refining Serum. Users are instructed to wash away the PM Refining Serum after leaving it on skin for 20 to 30 minutes, while the Overnight Serum is intended to be kept on all night.
"Men are not as conscious of taking care of their skin as women," Smokey remarked. "Since I've been using the product, it has smoothed my skin out. I'm black, I ash, I play golf, I'm out in the sun, I do all that kind of stuff, and my skin is smooth."
It was at this point that Smokey took my hand and let it glide over his perfectly polished face. "See what I mean," he said. "It smooths out your skin."
I couldn't argue with him there. And then to fulfill my dad's request, I took a photo with Smokey. The room was shrouded in a hypnotic purple light. That's Motown, baby.