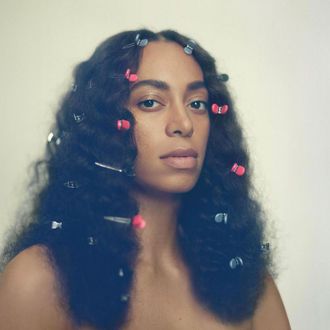 Solange, A Seat at the Table
Photo: Columbia Records/Sony
On Monday, Solange released two music videos for her album A Seat at the Table. "Cranes in the Sky" and "Don't Touch My Hair" are both visually stunning depictions of stripped-down, ethereal dreamlands. Behind the videos was Solange's longtime beauty team, hairstylist Nikki Nelms and makeup artist Miguel Ramos. The two talked to the Cut about the looks behind the dynamic videos, addressed the true meaning of "Don't Touch My Hair," and mulled over the insane scene where Solange did her own makeup.
How do you normally approach Solange's hair and makeup?
Nikki Nelms: We always take into consideration the whole look, the event, the mood, the time. Sometimes we can do more, but sometimes it's crunch time and we do less. We have a very similar eye when it comes to styling and what we don't like, so it works well. I love hair that's not too neat and what I like to call "Easter Sunday," and she feels the same way, too.
Miguel Ramos: I've been working with Solange for a little over two years now. Solange is a natural beauty. It doesn't take much to enhance her. I first started working with her when she was a guest of Calvin Klein at the CFDA Awards, and we use that as our referential point for her beauty look. But we usually like to keep it pretty natural and maybe enhance her eyes.
How did you achieve Solange's voluminous triangle hair in "Cranes in the Sky"?
N.N.: I like to use different-size irons so you don't get a uniform look. I'm not into same-direction curls, unless that's what the look calls for. I also embrace the evolution of hair, the evolution of the curl. You might start out with one look at the beginning of the day, and when the curl drops, it brings a whole new look that I embrace instead of fight. We embrace the flow of the hair through the day.
"Cranes in the Sky" and "Don't Touch My Hair" both showcase Solange in purple eye shadow. What did you do to create those looks?
M.R.: Those were cream colors that we used. We were looking for a sophisticated color palette to complement the wardrobe, the setting, her expression, the essence of the album, the music, so with "Cranes in the Sky" we decided to go with a more natural feel to express natural beauty. I used M.A.C Paint Sticks. We applied them free-hand with our fingers to give it a natural feel. We kept the beauty very minimal. Every now and then we threw in a pop of color to add to the aesthetic expression.
One of Solange's songs is called "Don't Touch My Hair." What does that song mean to you?
N.N.: It means so many different things, but I'll tell you one. Everyone has their own hair and their own style, and what they like. That's something that you have to own as an individual. Sometimes people will try to imitate you, or sometimes they want you to imitate them, or put pressure on you if you don't look a certain way. "Don't Touch My Hair" is the preservation of you. Praising your style, your look, for you. It's cool to be you. Solange's whole movement promotes that. That's just who she is, and she doesn't let anyone change her. You miss out on so much by trying to imitate someone else's style.
How did you create the braided updos in "Don't Touch My Hair"?
N.N.: Michael's was my friend through this whole process. I went there and got some strong pipe cleaners to match the look of the hair texture, and braided them in so it made the braids easier to bend, shape, and style. It also made it easier to change quickly because it was just as simple as bending another way, and not loading the hair with pins and praying that it stayed.
How did you prep Solange's skin before each video?
M.R.: Whenever I do makeup I take extra time in feeling the client's skin texture, skin type, and hydration level. For Solange, I gave her a lymphatic massage before the videos.
What pink lipstick did you use for Solange in "Don't Touch My Hair"?
M.R.: I used M.A.C's Coral Bliss patted with the fingers and M.A.C. Lust lip gloss, which is a nude shade, to tone down the intensity.
What Nude lip color is Solange wearing in "Cranes in the Sky"?
M.R.: I used M.A.C's Kinda Sexy, and patted it with my finger with Lust lip gloss to subdue the intensity of the color. As far as her skin, we stuck to a natural feel; we didn't go with any base, used minimal concealer, and enhanced her lashes.
Solange is also featured with striking gold eye shadow and body paint in "Cranes in the Sky." How can that look be re-created?
M.R.: That was a scene that was shot afterwards because we were pressed for time. Solange actually shot that scene on her own and did her own makeup. She's very intuitive in how she wants to be perceived and knows a lot about makeup.
Solange has always been open about wearing weaves. What's the best advice for someone on how to maintain their weave?
N.N.: The thing about weaves is that you have to make sure that they look believable. As far as maintaining them, it depends on what kind you have. If you have one that's more of a haircut, it may need more maintenance. If you have one that's textured, you can embrace the flyaways and not maintain and care for it as much. You have to always start with good-quality hair, though. I don't care if you got a good cut or if it was styled and installed properly — if the hair texture is trash, the stylist can't do anything about that.
What's it like working in Solange's orbit?
N.N.: It's always an honor. Not only are we friends, but I'm also a fan. I love her mind. She's such an amazing example of how to stay true to you. There are a bazillion hairstylists, and if you get caught up in what everyone else is doing, then you've already lost the race. Figure you out, and then stick to it — I've learned that by watching who she is. This whole album is an example of what happens when you do you.
This interview has been edited and condensed.