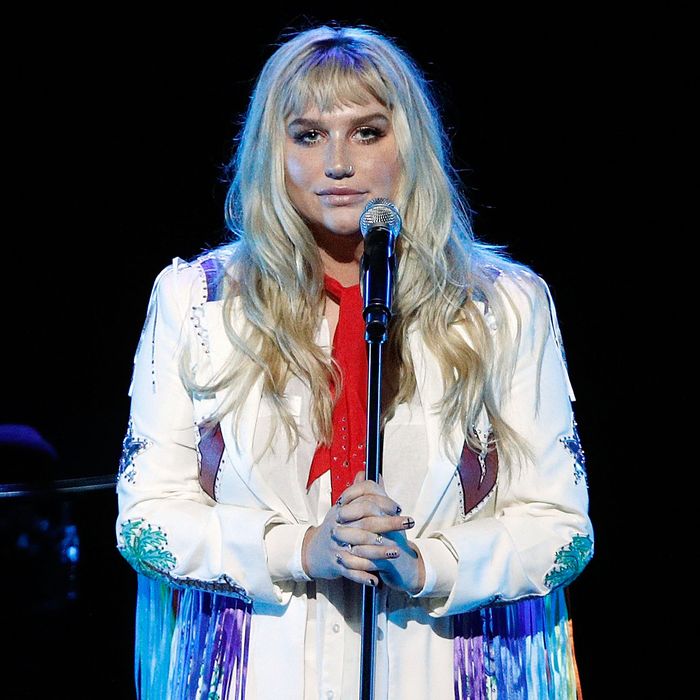 Photo: Taylor Hill/FilmMagic
Sony released an official statement to BuzzFeed Friday night that a new album from Kesha is on the way.
"Creating a new album takes time, and everyone's goal is to deliver a high quality album consistent with Kesha's past releases … We hope to share exciting new music with Kesha's fans soon," the statement read.
Kesha has been trying to disentangle herself from a contract with Dr. Luke's Kemosabe Records, under Sony, since filing a civil lawsuit in 2014 accusing the producer of "sexual assault and battery, sexual harassment, gender violence, civil harassment, unfair business, and intentional and negligent infliction of emotional distress." Dr. Luke fired back with a countersuit. In August, Kesha dropped her claim against Dr. Luke, and she delivered 28 songs to Sony that she recorded on her own dime in the hopes of fulfilling her contract. As per BuzzFeed, Sony and Dr. Luke could open themselves up to a lawsuit for breach of contract if they refuse to release the songs.
Whether or not that was the deciding factor in Sony's announcement remains to be seen. It's also not clear what the time frame is for Kesha's new album. Her attorney, Daniel Petrocelli, told BuzzFeed, "Kesha has been trying for six months to record and release new music. Only in the last month, after our last court hearing, has any progress been made, but it is hardly enough. Kesha still has received no commitments on promotion, songs, or even a release date."
"We hope things turn around fast. Meanwhile, Kesha intends to continue participating in the creative process in the hopes she can meaningfully return to work."
Kesha continues to perform live; the pop star made an appearance at the 2016 Global Citizen: The World on Stage concert in NYC last month.