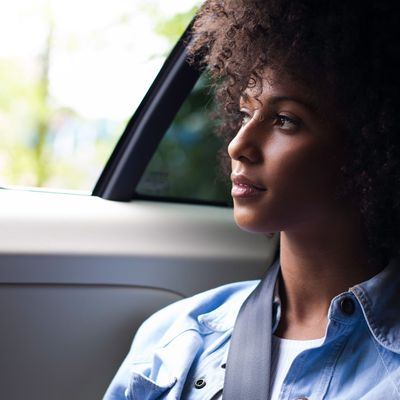 The results of a two-year study on Uber are pretty damning.
Photo: Dean Hindmarch/Getty Images/iStockphoto
According to a new study by the National Bureau of Economic research, Uber drivers regularly discriminate against African-American people and women, Bloomberg Businessweek reports. The study, which was conducted by researchers from MIT, Stanford University, and the University of Washington, found that Uber drivers in Boston canceled rides for men with "African-American-sounding" names more than twice as often as other men, while black users in Seattle faced significantly longer wait times than white users.
Researchers also noted that women were taken on significantly longer rides than men and often overcharged. "Female riders reported 'chatty' drivers who drove extremely long routes, on some occasions, even driving through the same intersection multiple times," they wrote. "As a result, the additional travel that female riders are exposed to appears to be a combination of profiteering and flirting to a captive audience."
"It seems to be a few bad actors," Stephen Zoepf, one of the study's authors, told Jalopnik. "A few drivers were taking routes that were five-times as long as they should be."
Data was amassed from almost 1,500 rides across Seattle and Boston. In Seattle, four black and four white research assistants used their phones to order cars from Uber, Lyft, and Flywheel over a six-week period. A second test was held in Boston, with assistants "whose appearance allowed them to plausibly travel as a passenger of either race," but who used either "African-American-sounding" or "white-sounding" names, based on the results of a previous study. The cancellation rate for passengers who appeared to be white was 4.5 percent — for passengers who appeared to be African American, it was 11.2 percent.
An Uber spokeswoman defended the company's record to Bloomberg, saying, "Discrimination has no place in society and no place on Uber. We believe Uber is helping reduce transportation inequities across the board, but studies like this one are helpful in thinking about how we can do even more."