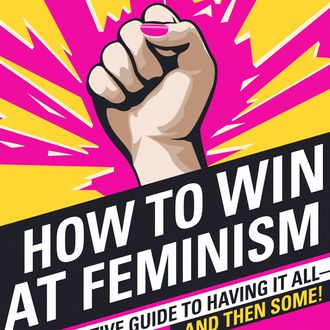 R: Beth Newell and Sarah Pappalardo
Photo: Courtesy of Reductress; Peter McNerney
One night in October, about an hour before the third presidential debate was set to begin, a mostly female audience filed into the Upright Citizen's Brigade theater in Chelsea for Reductress's monthly variety show, "Haha, Wow!" The lineup included comedian Marcia Belsky and musical duo Friends Who Folk, the latter of whom performed a weirdly dark and infectious song about the classic 1998 Julia Roberts film Stepmom. Then Reductress staff writer Jasmine Pierce was up. Pierce, who has a warm and convivial stage presence, opted to read her previously pitched headlines that didn't make the cut; after each delivery — "Woman Proud of Gross Body," "Man Complaining About Blue Balls Leaves Woman Without Orgasm Every Single Time" — the audience immediately burst out laughing in recognition.

Headlines are the main draw for Reductress, which bills itself as "the one and only fake women's news magazine." The site, which was founded in 2013 by Beth Newell and Sarah Pappalardo, has expanded to include a podcast, "Mouth Time," along with the "Haha, Wow!" variety show. On October 25, they released their first book, a self-help spoof titled How to Win at Feminism: The Definitive Guide to Having It All — And Then Some!

But back to the headlines for a moment, because it would be a disservice not to share some of my favorites. They range from the faux-servicey — "Trendy Crop Tops for Harvesting Dick"; "I Gave Myself the Prettiest Braid Ever, So Now It Is Time to Die" — to the ever-so-slightly deranged — "Amazing Hot Air Balloon Trips to Corner Him About Those Texts in His Phone" — to the uncomfortably relatable — "Sexy Ways to Low-Key Black Out and Sabotage Something Good" — and they are all deeply, deeply funny.

Newell and Pappalardo met in 2012 while they were both working on a political-themed sketch show at the Magnet theater. Newell started doing improv at New York's UCB in 2005 then went into sketch shortly after; Pappalardo got her start at Chicago's famed Second City in the early aughts and was the musical director there before moving to New York in 2008 and taking a day job as a copywriter then, later, a digital producer. "I came up with the idea for Reductress then emailed Sarah late at night one night like, 'hey wanna do this weird idea?'" Newell tells me over lunch.

The two rallied friends to contribute in January 2013 and spent months building a custom site and writing 50-60 articles that would be ready when they officially launched in April. "When we started, it was much more a parody directly of women's media and women's magazines," Newell says. "It's become a lot broader now, just parodying our own experiences as women."

The team has expanded as well. Writer and comedian Anna Drezen was their first hire back in 2014, and she both served as an editor and wrote How to Win at Feminism with the founders. In September, it was announced that Drezen was hired as a writer for Saturday Night Live; although she's no longer on staff at Reductress, Drezen speaks fondly and with admiration for Newell and Pappalardo and their vision. "You feel like you just have to ingest the garbage tone that the media takes with us and roll your eyes quietly, but this is a way to get through that," she tells me over the phone. "It was a new way of processing that information that was cathartic and funny. "

Nicole Silverberg is now the site's third editor (they also employ two staff writers and an intern). The operation is still small and scrappy — their shared office at a coworking space in the Flatiron District is roughly the size of my cubicle — making the amount of incisive, hilarious content they churn out ever the more impressive. Their workweeks start with catching up on emails and assigning pitches that came in over the weekend — writers are required to submit ten potential headlines at a time, so they're typically sorting through several hundred freelancer pitches. "Our goal immediately upon founding the site was to pay writers," Newell says. Though that wasn't the case for a while, Pappalardo confirms they are now compensating regular contributors.

In August 2016, standup comedian and Inside Amy Schumer writer Kurt Metzger ignited a social media firestorm when he published several Facebook posts commenting on UCB's decision to ban an alleged rapist and mocking the man's accusers. "If we ask them to even merely also post a vague account of what happened before asking us to believe that would [be] like re-raping their rape! These women are as BRAVE as they are sore!" he wrote. His words quickly spread beyond the comedy community and sparked a mass call for Amy Schumer to address his behavior.
"When all that stuff was coming out, everyone just felt so shitty in the office," Pappalardo recalls. "We were really bummed out and not really productive. When we asked people if they had pitches on rape culture at large, we got hundreds of pitches in minutes."

They worked furiously over the course of an afternoon to fill their entire homepage with articles like "This Rapist Has Figured Out a Way to End Rape Culture," "Man Who Sexually Assaulted You Likes Your Facebook Post About Assault," and "How to Be an Ally to Both a Rapist and His Victim." Their work received a swell of attention, with outlets like the Washington Post, Jezebel, Mashable, and the Daily Dot all praising them for their work.
"What was really upsetting to us in the office, maybe more than the rape itself, was just the way rape is usually handled, especially the way rape was discussed in the community among the men," Newell adds. When I ask about her own experiences facing sexism in the comedy world, she talks about being challenged repeatedly when she ran the sketch program at Magnet. "There was a certain kind of guy that had a very hard problem with females in authority positions. Any little decision I made good or bad, I got called out on it ten times more than a guy would."

Pappalardo points to the unequal gender breakdown back when she first started in the industry, something she says has changed for the better over time. But back then, she says, you could pitch something to a sketch team or a writers room — "something that maybe women might appreciate" – only to have the guys shrug and say they didn't get it. "It's not like they're trying to be assholes about it," she says. "Their lived experience doesn't match yours."
The reversal of that dynamic is one part of what makes Reductress so appealing. And with the surreal buffet of content offered up by online women's media — from relentlessly positive celebrity coverage to harrowing personal confessions to good old fashioned fear-mongering — Reductress has an endless supply of fodder for satire.
They've also deftly skewered pop feminism and the confused rhetoric that results when complex topics become clickbait — "Why I Feel So Passionately That Sex Work and Porn Is Problematic But Empowering But Good For Them But Bad For Them" is one of their posts that I return to again and again. How to Win at Feminism, in particular, is a beautiful mockery of pop feminism, featuring chapters like "How to Love Your Body Even Though Hers Is Better" and "How to Apologize for Having It All," with mentions of Beyoncé scattered throughout. "I feel like women's media all discovered feminism in the same day and they all kind of just got this Spice Girls version of feminism and missed some important details or even the history and the how we got here part," Pappalardo says. "So that was kind of the inspiration for the book: What would a well-intentioned but ill-informed women's magazine write about feminism?"

"Before we were even having the conversation about feminism one thing that was really driving us crazy was the faux-empowerment media that was really just trying to sell people soap or whatever," Newell adds.
Because to be a woman on the internet — or watching TV, or thumbing through a magazine, or just existing in the world — is to be bombarded with media and messaging that infantilizes and condescends. Reductress provides us with the most enjoyable way to deal with that: by laughing.