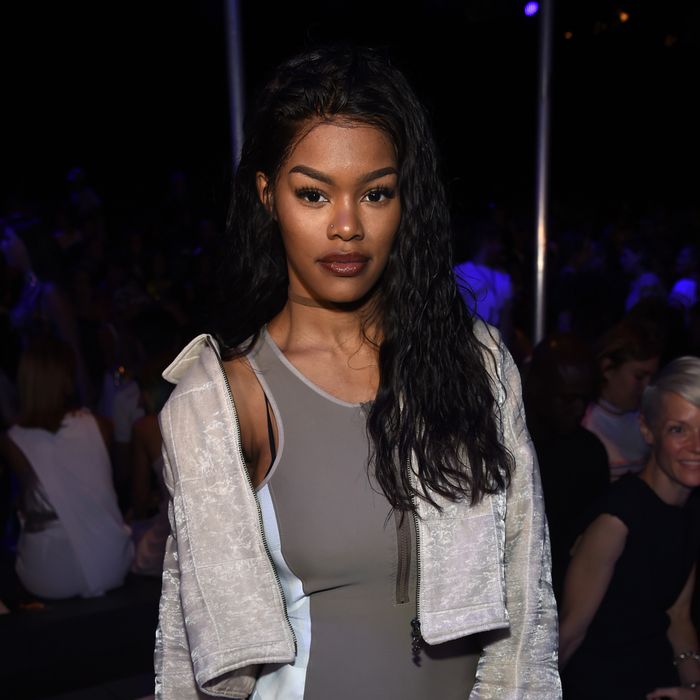 Teyana Taylor wants you to dance with her.
Photo: Jamie McCarthy/Getty Images for New York Fashio
When Kanye West debuted his "Fade" video at the MTV Video Music Awards in August, there was plenty of ooh-ing and aah-ing as fans debated the subtle symbolism in the video (what's with the sheep/lamb, Kanye?!). But perhaps nothing grabbed the public's attention more so than a hot, sweaty, and ultra-fit Teyana Taylor. Her Flashdance-inspired routine and her fit, fit physique was all the motivation any of us needed to renew our ClassPass. And while most of us can easily get the sweaty-gym look, getting Taylor's sweaty, hot-and-fit look probably requires a lot more work. But fear no more! Taylor now has a dance-workout regimen in store for us mere mortals.
On Tuesday evening, Taylor announced the release of her new dance program called "Fade 2 Fitness." There's currently a live website that asks readers to sign up for future updates and videos of dance workouts as well as the workout choreography she did to get in shape.

All of this comes to us from a woman who's rumored to not be a workout fiend, and who also just so happened to give birth not even a year ago (seriously). Still, in the words of Queen Bey, "a little sweat ain't ever hurt nobody." Get ready for the Teyana Taylor workout tape.