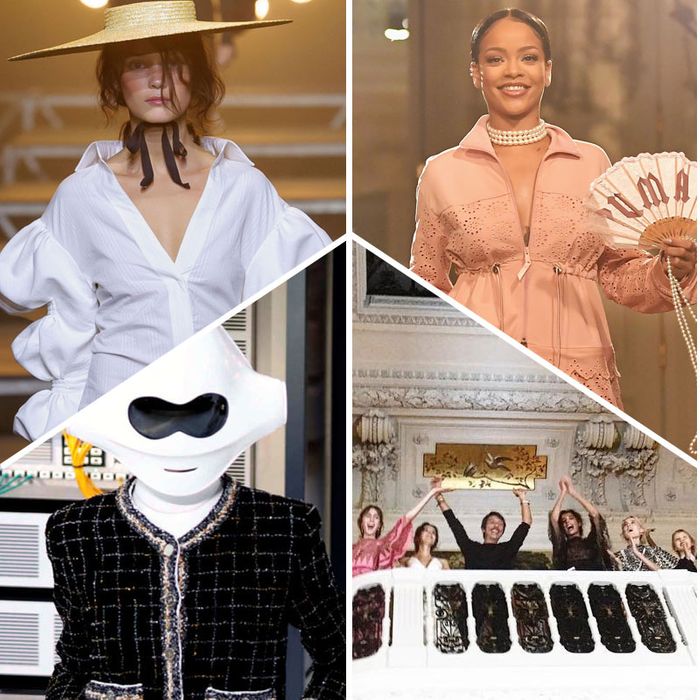 Photo: Imaxtree, Getty Images
When it comes to Fashion Month, Paris is the dessert you look forward to savoring during the rest of the meal: You know you're about to indulge, so you try to pace yourself. And even though the ten-day schedule of shows and appointments can get grueling, you always emerge full of inspiration. After a week of surprisingly perfect weather and surprisingly emotional shows, here are our ten favorite moments from Paris.
1.The Debate. Yes, that debate.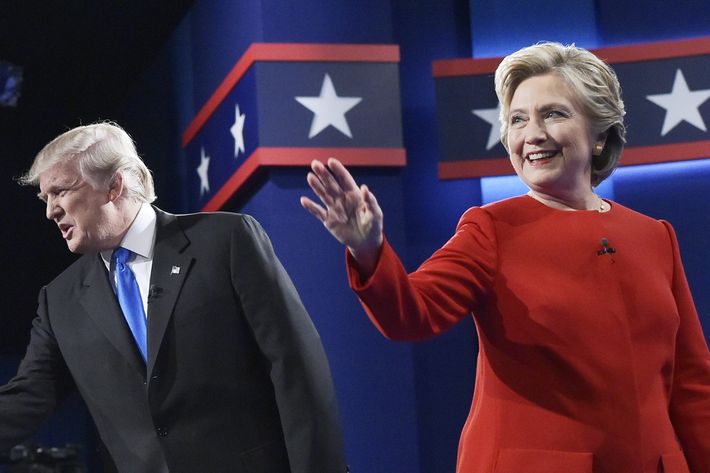 A handful of politically conscious editors stayed up late to watch the standoff between presidential nominees Hillary Clinton and Donald Trump. Vanity Fair's Michael Carl organized the late-night gathering (it began at 3 a.m.) at the Peninsula Hotel's Cigar Room. A foil to the typical street-style parade around the Tuileries, the crowd wore loungewear and pajamas while texting and sharing images with those watching back home in New York.
2. The Face-Off Between Dior and Valentino.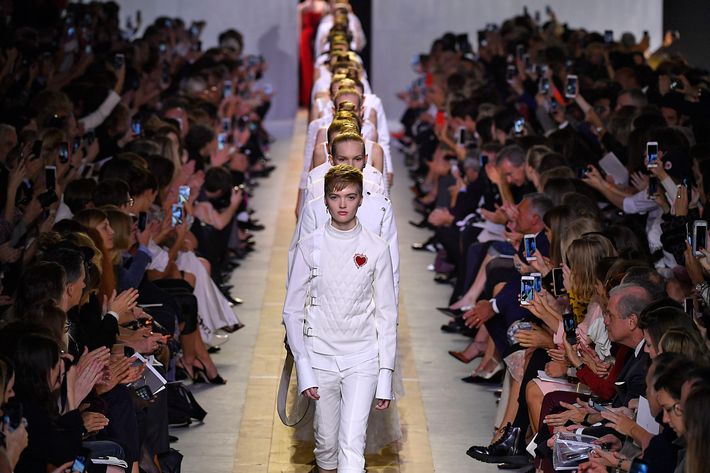 After 26 years of working together, Maria Grazia Chiuri and Pierpaolo Piccioli split up for the first time this season, with Chiuri making her debut as creative director at Dior and Piccioli showing his first solo collection at Valentino. As face-offs go, this one couldn't have been more sporting. Piccioli sat in the audience as Chiuri's Dior models walked in a feminism-and-fencing-inspired collection that should be on track for a good red-carpet season. The crowd gave her a massive standing ovation, and they were in an equally good mood at Valentino, which was full of dresses in beautifully saturated colors, micro bags, and relaxed silky trousers. At the show's end, the models and Piccioli stood on a balcony, cheering everyone surrounding them.
3. The Giant Sleeves.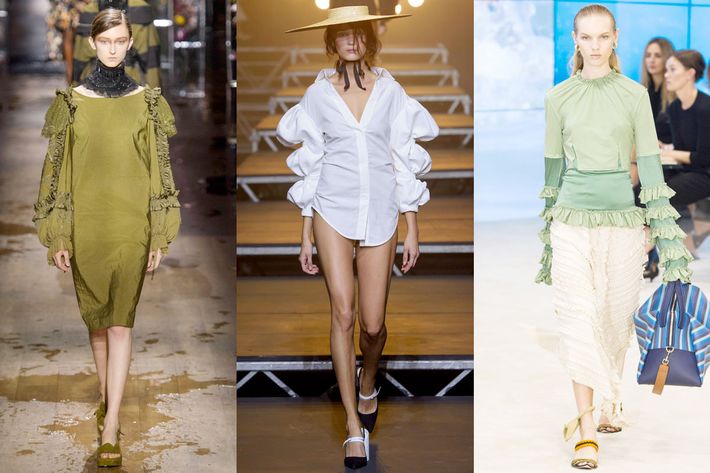 Last spring's movement toward volume and Victoriana has evolved into even more beautiful, ornate styles this time around. Jonathan Anderson's tiered ruffle sleeves for Loewe were supersize expressions of femininity. At Jacquemus, poufs offered a modern nod toward more historical silhouettes. And at Dries Van Noten, the embellishments and luscious soft fabrics were romantic and utterly pretty. Expect them to be out in full glory come spring.
4. The Flood of Instagram Bait.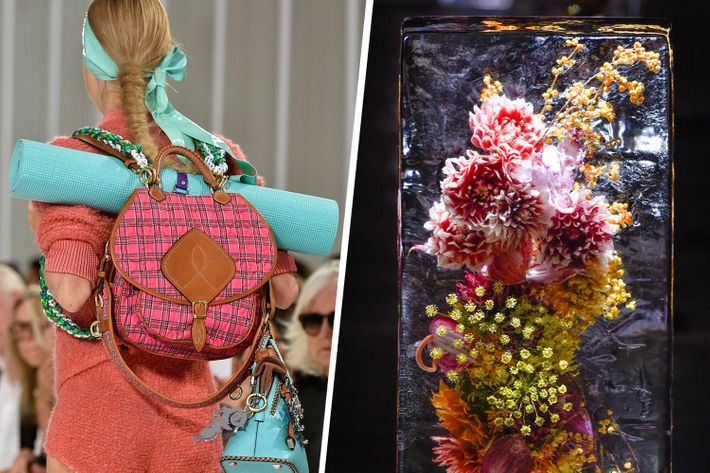 For some brands nowadays, creating a spectacle is just as important as showing the clothes. While the Dries Van Noten show was full of covetable, beautiful clothing, the floral arrangements encased in ice slabs by artist Azuma Makoto dominated Instagram feeds and inspired some wedding discussions. Chanel's opening robots were made for social media, and Maison Margiela sent a model down the runway in a cute coral bodysuit with a yoga mat strapped on her back. (Yes, the mat will be available for editorial shoots).

Givenchy provided its audience with silver reflective space blankets, instantly lending inspiration for editors to style their own portraits. And at Kenzo, people of all sizes and ages were painted as living sculptures for a show set in a museum.
5. Celebrities Were All Over the Front Row.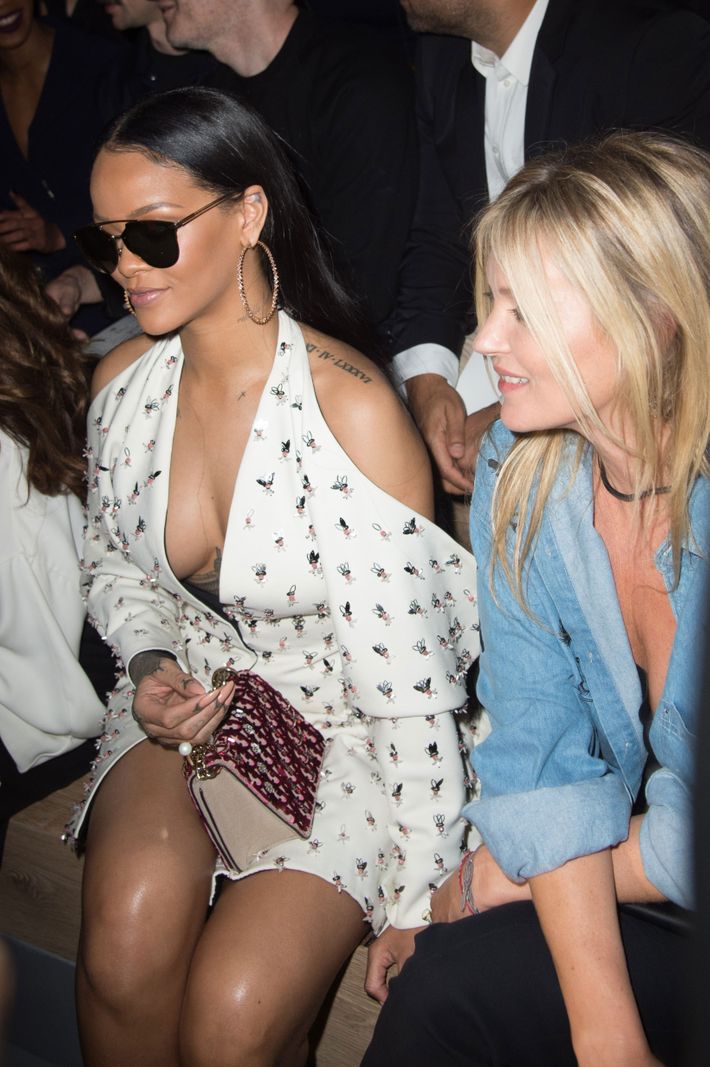 If Milan was all about the models (Naomi! Maricarla! Karen Elson! Lauren Hutton!), Paris was all about the stars. Roger Federer sat front row at Louis Vuitton, along with Michelle Williams, Sasha Lane, Jennifer Connelly, and more. At Dior, Rihanna attended (after her own show, Fenty) along with Natalie Portman and Bianca Jagger. Givenchy boasted Courtney Love and Frances Bean, while Chanel invited Usher and Lily-Rose Depp.
6. The Parade of Color on the Runways.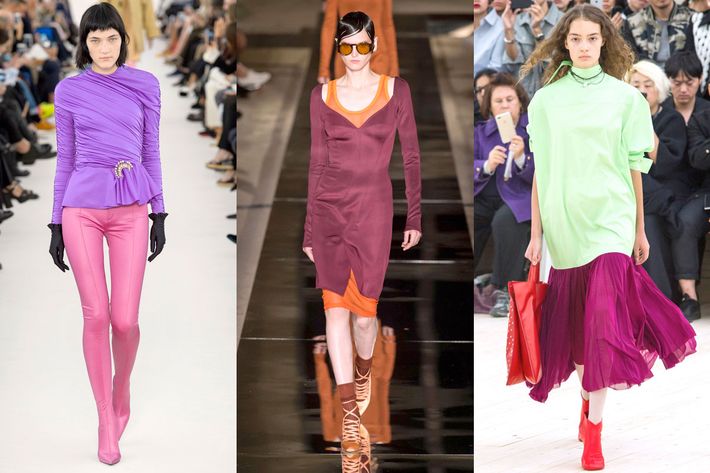 Saturated colors were everywhere, and you're going to want to play with clashing them. After several seasons of controlled palettes, we swooned for the bold kitschy color pairings at Balenciaga. At Céline, mixed-media dresses of lime-green silk and magenta shirting floated down the runway. And Givenchy showed layered body-con dresses in apricot and bordeaux.
7. The Return of the Power Suit.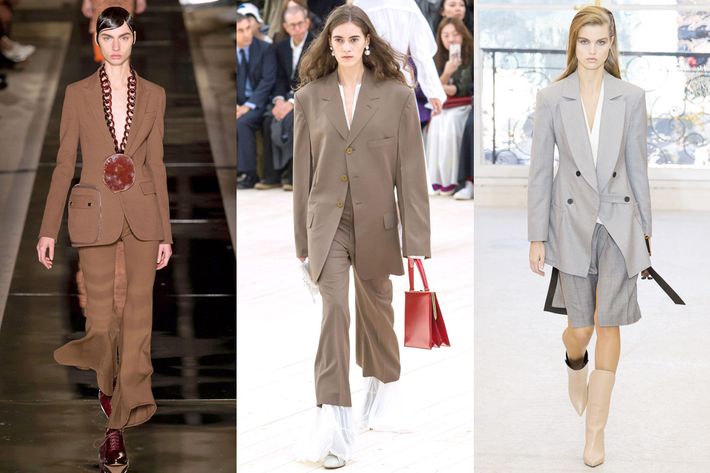 Tailored ensembles, some streamlined and some with bolder boxy shoulders, were big — perhaps a nod to a certain presidential candidate? Givenchy decorated its suits with jewels, while Céline played with relaxed silhouettes. Louis Vuitton even had us ogling a skirt suit.
8. Sonia Rykiel Was Honored.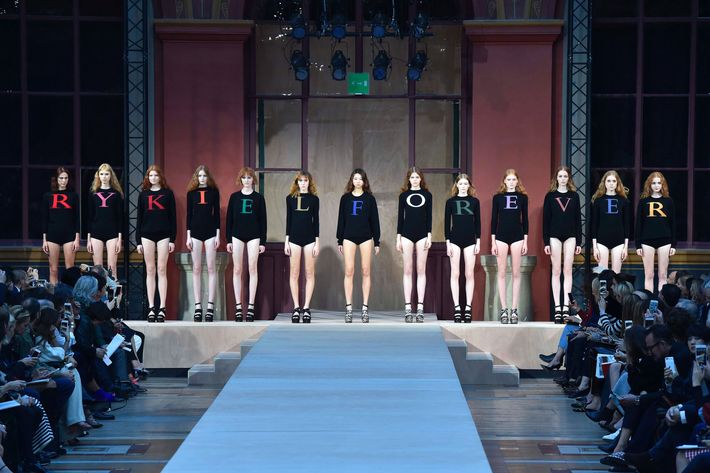 Sonia Rykiel paid homage to its late founder with an opening lineup of knit sweaters and bodysuits that spelled out "Rykiel Forever" — a moment of respect for the woman who put knitwear on the map.
9. Tears and Drama at Commes des Garçons and Rick Owens.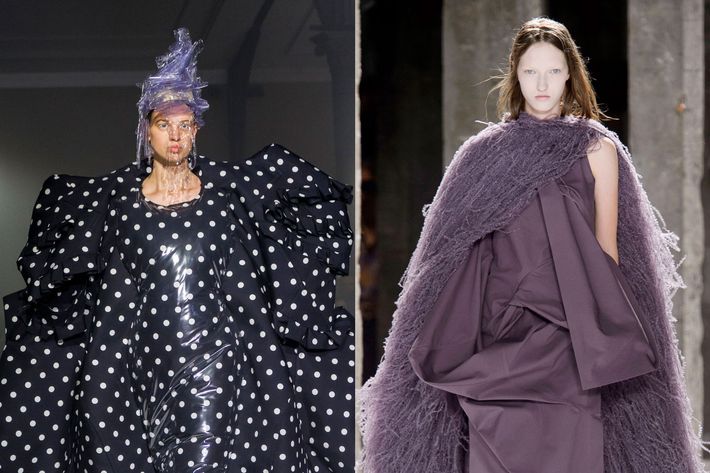 Rick Owens and Comme des Garçons had two of the most powerful outings, even moving some showgoers to tears. Known for his broody aesthetic, Rick Owens lifted us with a gorgeous collection that included feathers and sunshine-y yellows set to Nina Simone's "Wild Is the Wind." Comme des Garçons featured some of the house's key motifs, like polka dots, voluminous silhouettes, and tartan, with Anna Cleveland closing the show. Adding to the intrigue: Met Museum curator-in-charge Andrew Bolton and Anna Wintour sat in the audience, further fueling the rumor of an upcoming Rei Kawakubo Comme des Garçons exhibit.
10. An Aperitivo Straight From Milan.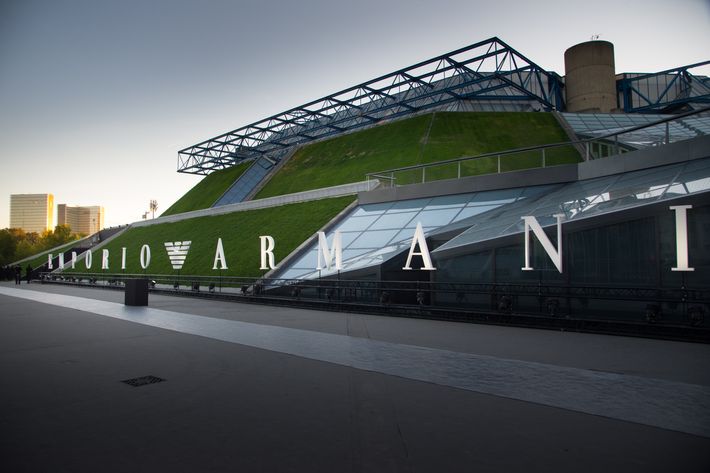 Emporio Armani brought its spring collection to Paris for one time only in honor of its massive, shiny new shop on Rue Bonaparte in the Saint Germain neighborhood. The comfortable, plush seating the Armani show perennially uses was imported direct from Milan to a Parisian stadium.