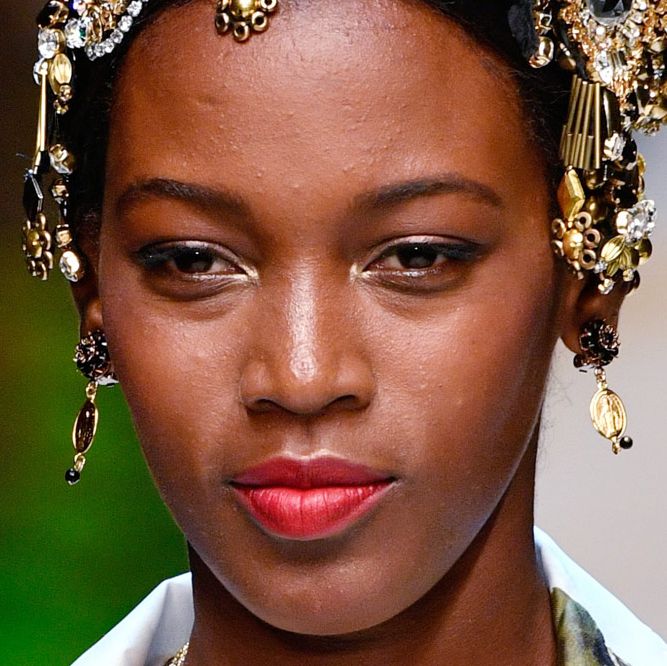 Nine bread baskets, three crêpes, four cheese plates, and innumerable pastry crumbs later, spring 2017 Fashion Month is over. Some shows featured no makeup, some featured a lot of makeup, and some featured X-rated makeup, but here are the best beauty looks to know from the last month. Click through for nine inspiring looks, from mushroom lips to layers of glitter, along with what you can learn from each.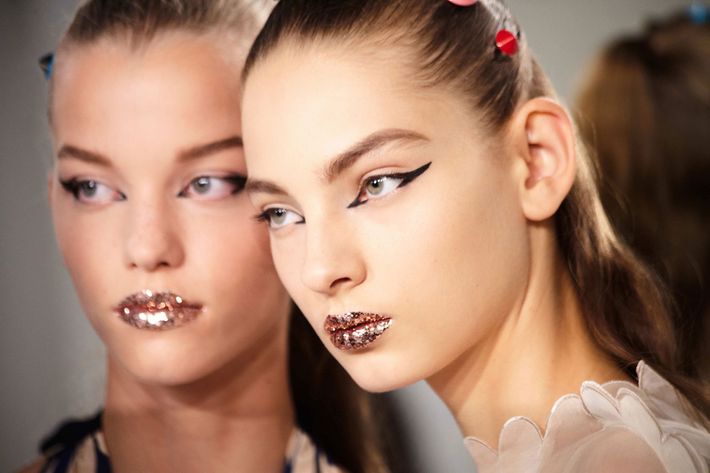 Fendi
I want whatever doughnut Peter Philips is having. For Fendi's show in Milan, Philips created a Wreck-It Ralph-inspired look that was supposed to make models look like they just bit into a "glitter doughnut." Hairstylist Sam McKnight also designed the hair to look like models had spent some time rolling around on the floor with candy bits. A kale-inspired beauty look just wouldn't have been the same.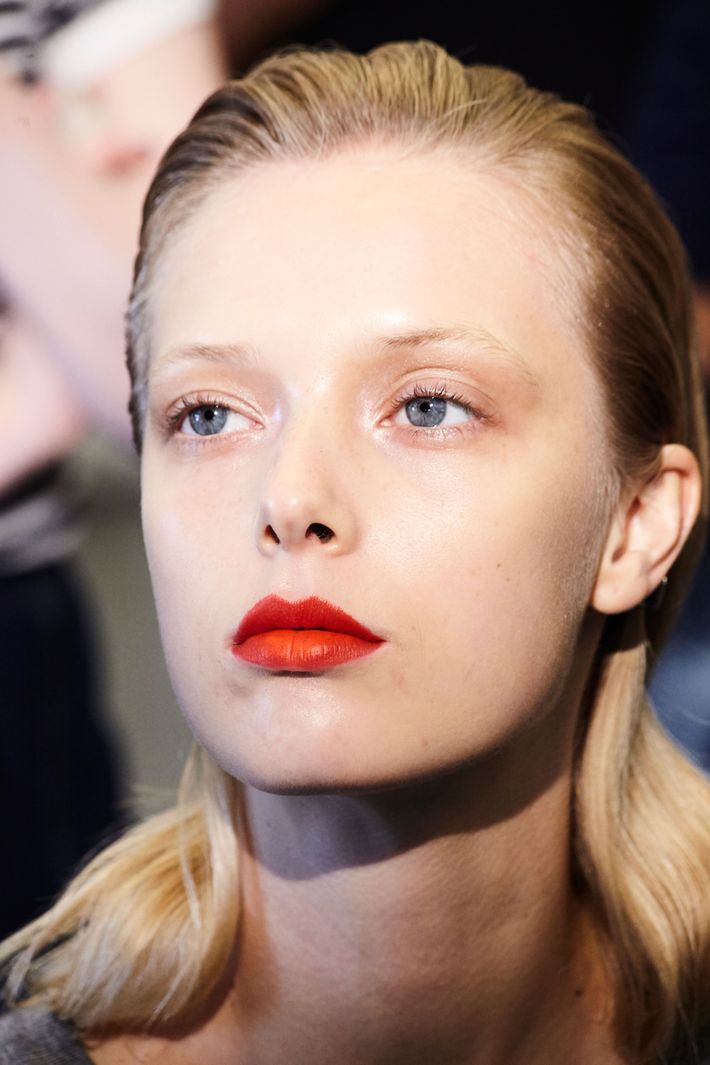 Jason Wu
There are red lips and then there are the ones at Jason Wu, which are orange-red and have a pow of electric orange powder pigment in the middle. Your lips may feel dry, but they'll look like they're glowing with a phosphorescent light.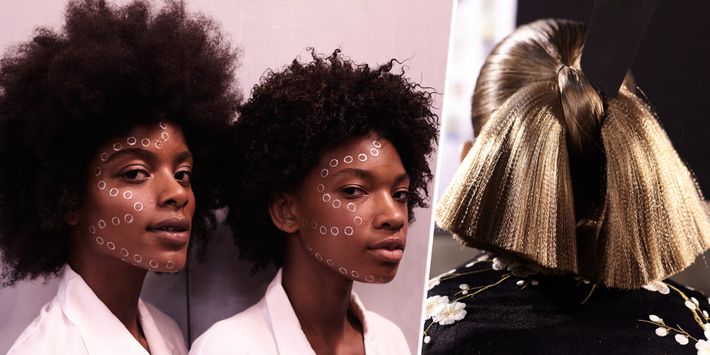 Issey Miyake
Conceptual makeup has never been so pretty. Inspired by the journey a seed takes to become a tree, makeup artist Alex Box created a meandering path of white circles across the face that were ethereal without being costumey. Hairstylist James Pecis created an intricate Japanese-inspired knot hairdo, but also respected the beauty of girls with natural hair.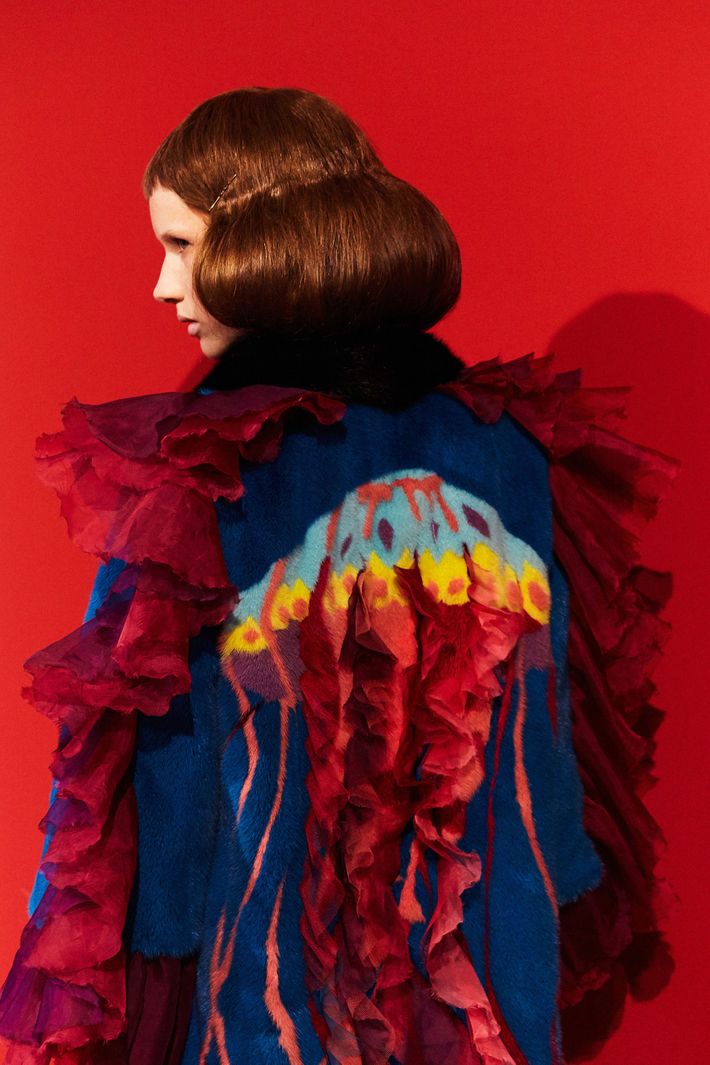 Gucci
Underneath the pink smoke on the runway, models wore more-is-more beauty looks. The mash-up of '70s and Edwardian hair evoked the feelings of timeliness and history.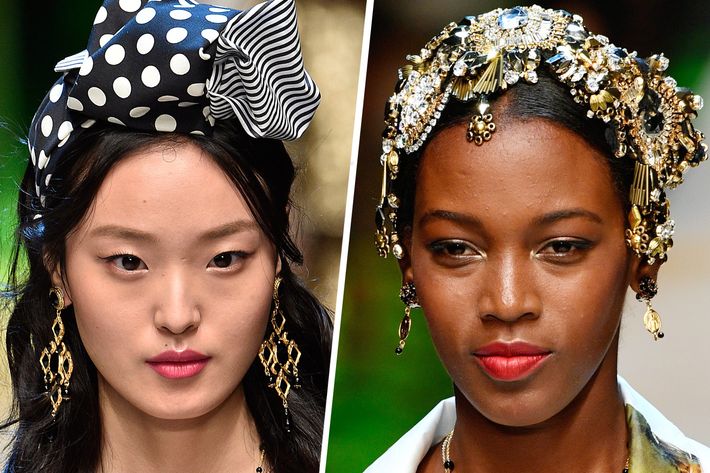 Dolce & Gabbana
As they say, if it isn't broke, don't fix it. Everyone is accustomed to Dolce's signature romantic waves, headpieces, and red lips, but that doesn't make this season's iteration any less beautiful.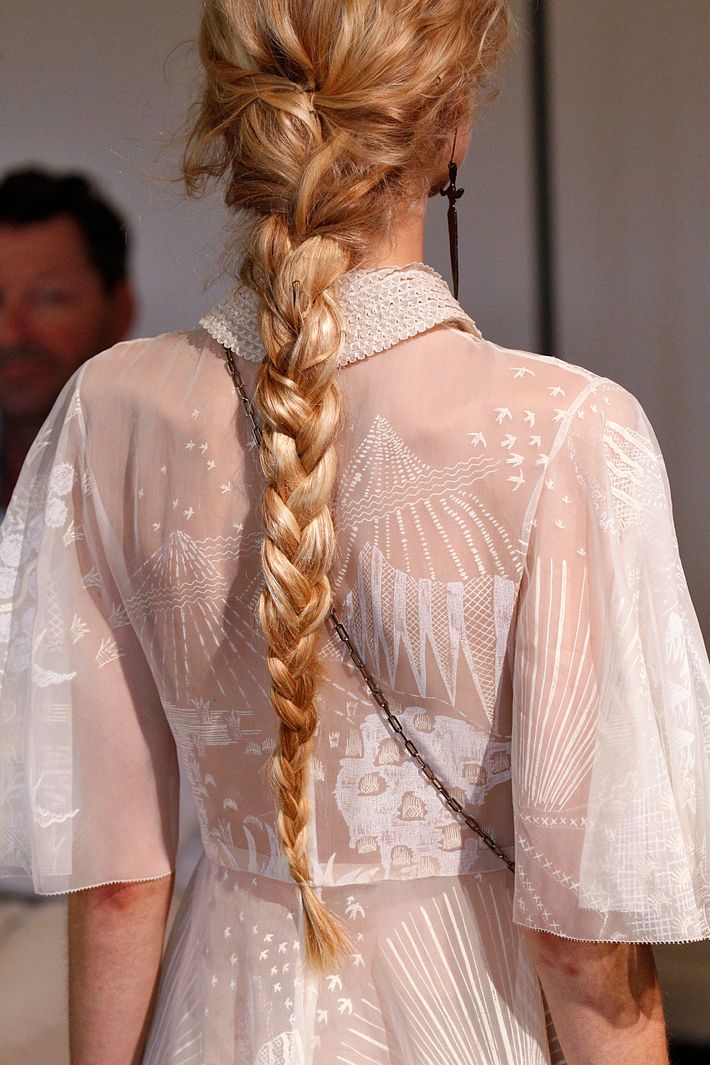 Valentino
A beautiful, romantic braid that isn't fishtail or a simple three-part plait but a distressed mix that doesn't look like anything you might wear with jorts at a festival.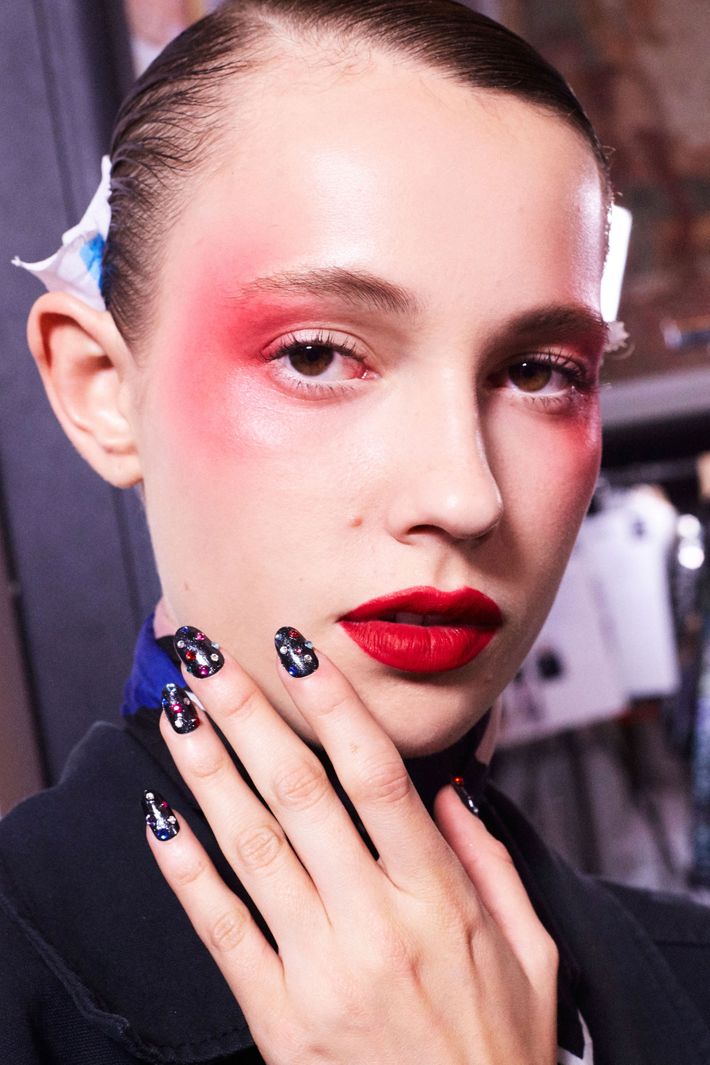 Kenzo
I watched Lynsey Alexander spend hours perfecting the red lips in a cramped area backstage. She used a lip brush to slightly create rounded lip lines on the models, making their lips look full but not Restylane-full.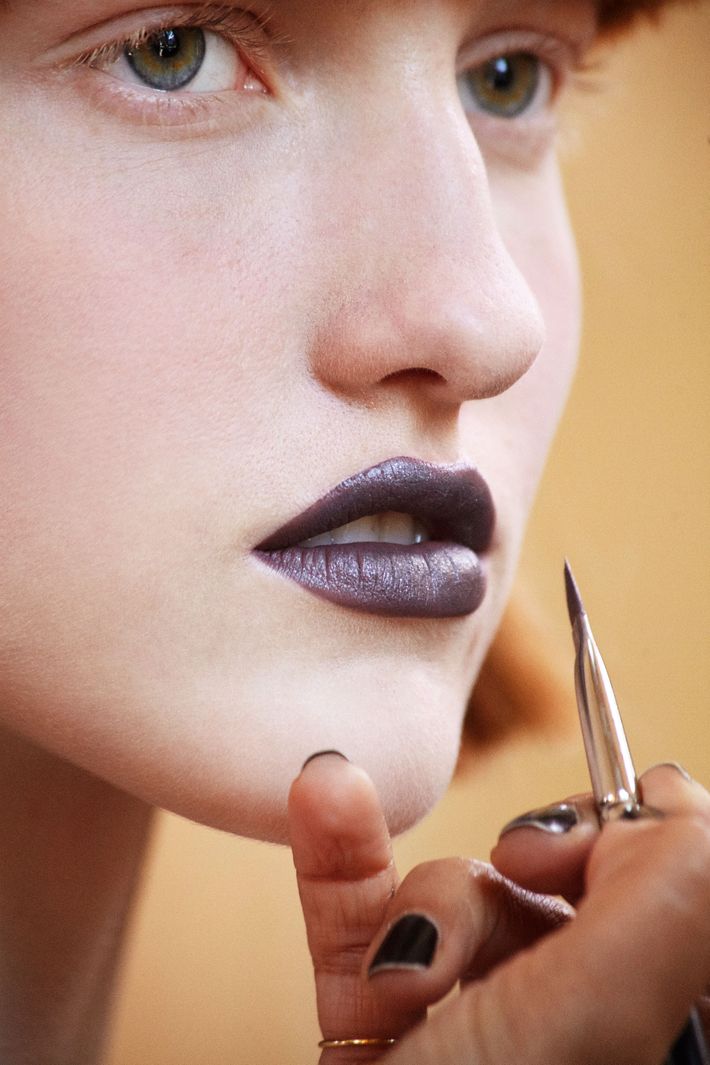 Acne
Neutral lips and red lips were popular this month, but then there was the "mushroom-y" lip at Acne. Makeup artist Aaron DeMey mixed up a variety of dark-purple lipstick and gray sparkle eye shadow to create an admittedly odd but beautiful color that he described as "left of center."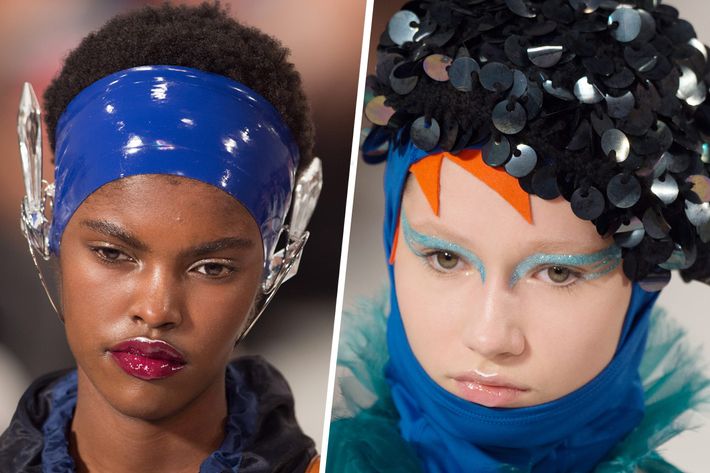 Margiela
Alien beauty mixed with rainbows. Perhaps this is Lisa Frank Space Odyssey 3001.