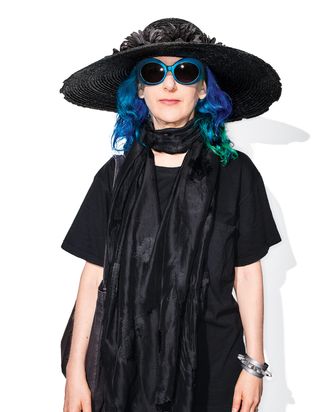 "I have to redye [my hair] once a month."
Photo: Bobby Doherty/New York Magazine
M. Apparition, Artist
Hi, M.!
The dot is silent. As for my last name, back when I was 17 or 18, I was wearing all black, and I had black hair and black lips. Someone saw me at the top of the stairs and said I looked like an apparition. I was like, Okay, I like that.
Now your hair's blue.
It's actually five shades of blue and green, ocean colors: a cyan, a teal, a dark blue which fades to purple because it's the nature of the color, and a dark blue that stays dark blue. I have to redye it once a month.
How do you make sure your bathroom doesn't turn blue?
Put the New York Times on the floor and clean up the walls with ordinary soap and water. Sometimes I use a scrub pad. Yes, there are some dots on my kitchen walls. And ceiling. But the walls are silver anyway, so the blues look good — they kind of personalize the place.
Lightning Round
Neighborhood: East Village.
Born: In Manhattan. "I'd rather not say where. I fled from that area many years ago."
Sunglasses: By A. J. Morgan.
Favorite New York spot: "It was The Four Seasons. Modernism done right."
Typical lunch: "Steamed vegetables and tofu. I'm actually a good cook for a vintage punk rocker."
*This article appears in the October 3, 2016, issue of New York Magazine.