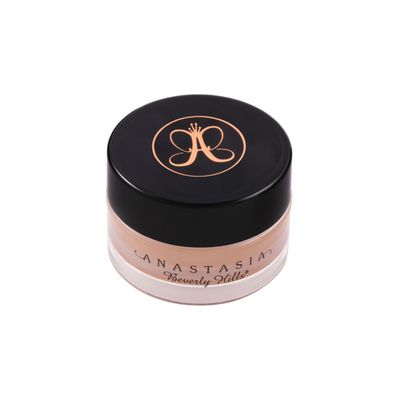 How long ago did Kevyn Aucoin launch its cult-status Sensual Skin Enhancer? Ten years ago? Fifteen? Who knows. It's still fantastic. And at $48, it is also very expensive. Anastasia's concealer is less than half the cost of a tiny tub of Skin Enhancer, but I'd argue that it's just as good. Let's explore.
Anastasia's concealer is a rich concoction available in 16 shades. The product has been a part of the Anastasia lineup for years, but has flown under the radar compared to the brand's heavy hitters, like the brow heroes or heralded highlighters. It's a cream, yes, but not like the hardened wax cream concealers made famous by Cle de Peau or Neutrogena. Instead, think of Anastasia's version as an intensely pigmented butter. The formula, dense with color, covers dark under-eye circles and blemishes with just a dot or so. For an easy DIY tinted moisturizer, mix a pea-size amount of the concealer with a moisturizer. Poof! Instant sheer-coverage.
A great concealer doesn't just cover your face's bad bits, of course. It also doesn't cake, dry, or settle into fine lines. That's where Anastasia's version really excels. Sometimes I "set" the formula with a dusting of powder on my face. This helps prolong the life of the formula throughout the day (mostly preventing my oily skin from diluting the concealer), though it's not entirely needed. Indeed, on days that I skip this step the concealer doesn't appear to budge, though my shiny forehead is another story altogether.
Anastasia's concealer is available in a slightly smaller tub than Kevyn Aucoin's, but at a dollar per ounce, it's still a great deal. I wear shade 3.75, and I use it so often these days that I've almost run out.
Anastasia Concealer, $20 at Sephora