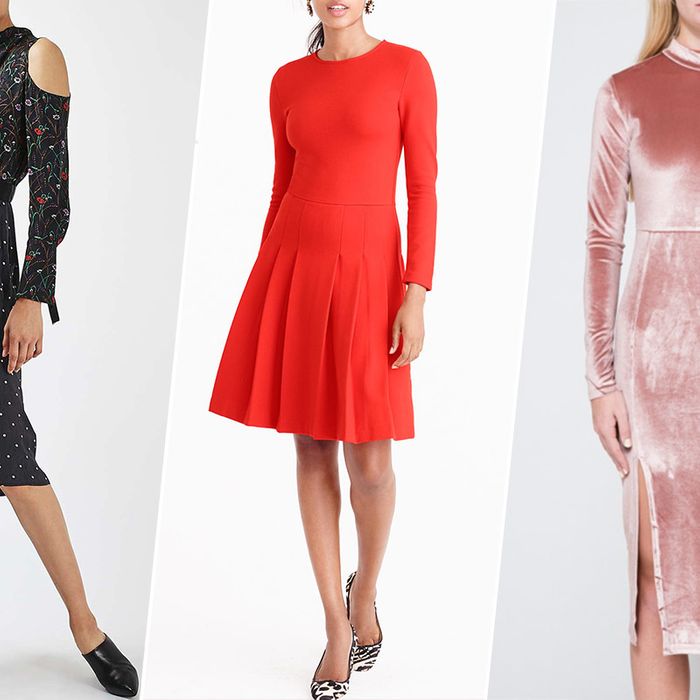 People who love summer have one common complaint the minute the temperatures drop. But it's sooooo cold and now I don't know what to wear, they whine. They have a point there — you're not going to be able to throw on a little white dress and sandals before running out the door. That's not to say you can't come up with an equally simple formula to make mornings easier.
Long-sleeved dresses, especially those of the sweater variety, should be a staple in your closet. They're easy to throw on, especially with tights and a pair of boots. Then add a jacket or heavier coat come winter and you're ready to go. Scroll ahead to see some of our favorites, at every price point.
Because millennial pink is a year-round color, this velvety turtleneck dress will be your favorite way to escape the winter doldrums.
Made from cozy cashmere, this is almost as good as wearing your blanket out of the house.
Office-friendly, without resorting to your usual black or gray sheath dress.
This dress can go two ways: With pumps, it's a nice twist on your standard work dress. If you're more of the Zalenciaga type, add platform boots.
On days when the mornings are freezing and the days turn warm, this is the perfect dress. The shoulder cutouts keep it light, but the dark floral makes it fall-appropriate.
On a crisp fall day, you can go bare-legged with a pair of ankle boots and come winter, slip a black turtleneck under to give this more warmth.
Can you get any cozier than this thick turtleneck sweater-dress? To make sure not an inch of skin shows in the cold, wear it with high boots.
This might be the most expensive dress here, but you can wear it for the majority of the year. Try it with boots, flats, or even unbuttoned over jeans.
With its ruffled neckline, it's probably not like anything in your closet. In a creative office setting, it's an easy way to looked pulled-together without being boring.
If you buy something through our links, New York may earn an affiliate commission.