So you've been invited to a Halloween party and haven't given a single thought to your outfit. Don't panic: We've waded through Amazon to help you find a last-minute (culturally relevant) costume, whether you're thinking of going crazy, presidential, or, yes, sexy.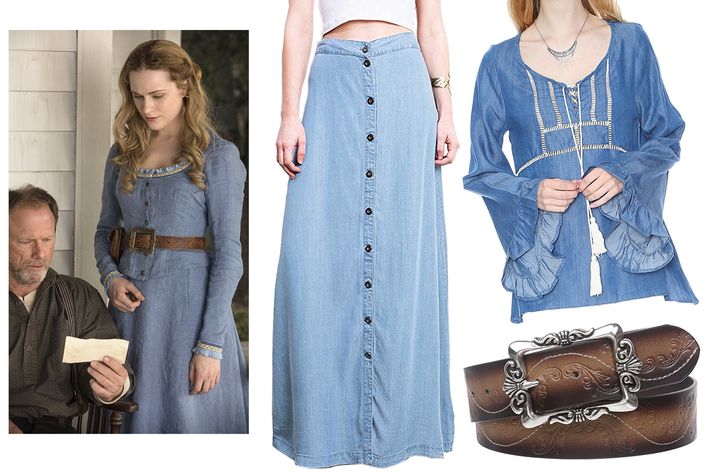 Dolores from Westworld
No need to stock up on metal parts — TV's favorite cyborg looks perfectly human. Added bonus: This costume can be reused as last-minute Oregon Trail cosplay if you're really hard up for ideas next year.
Buy It: Shirt, skirt, and belt
Gigi Hadid
You probably already have some iteration of a slip dress, sunglasses, and boots in your closets — just buy what you need.
Buy It: Slip dress, boots, sunglasses, choker
Zayn Malik
Who'd have thought the most iconic look from this year's Met Ball would be Zayn's robot arms? Find a friend to play Gigi and you can be fashion's "It" couple all night.
Buy It: Suit, dress shirt, shoes, robot sleeve
Professor Willow of Pokémon Go
For a brief, shining moment late this summer, we were all the Pokémon Go professor. Spray your hair with some silver streaks for added realism.
Buy It: Zip jacket, trench coat, yoga mat, cargo shorts, shoes, gloves, poké ball
Hillary Clinton
Forget the Beatles or Dr. Evil — nobody owns the Nehru jacket the way HRC does.
Buy It: Jacket, suit pants, collared shirt
Melania Trump
Pay homage to the moment we were all quietly trolled by the ultimate fembot — in Gucci, no less. Of course, your version costs way less.
Buy It: Shirt, wig, pants, button
Beyoncé in "Hold Up"
If anyone pisses you off, start swinging the bat dramatically. Extra points if you find a Harley Quinn and engage in some simultaneous man-threatening.
Buy It: Ruffle top, skirt, baseball bat
Natalie Portman in Jackie
Okay, this costume requires a bit of an acting challenge, but bonus meta points for channeling the Black Swan actress doing her best Jackie O.
Buy It: Zip jacket, skirt, pearls
Teyana in Kanye West's "Fade"
The ultimate sexy Halloween costume. Don't forget the bronzing oil to achieve that perfect slick look, plus the tiniest tank top, thong, and knee pads.
Buy It: Top, thong, knee pads, body oil
Dustin from Stranger Things
Is that the outfit of Netflix's breakout star — or of some guy we dated in Crown Heights?
Buy It: Trucker hat, corduroy pants, T-shirt, backpack, sneakers
Harley Quinn
Usually we're against prepackaged costumes (they're mostly awful), but this one has practically everything you need, minus the Suicide Squad member's maniacal glint. Add a wig and bat and you're good to go.
Buy It: Harley Quinn costume, wig, baseball bat
If you buy something through our links, New York may earn an affiliate commission.