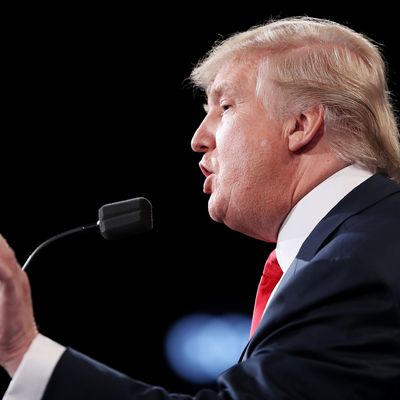 Donald Trump.
Photo: Joe Raedle/Getty Images
Things were initially pretty cordial between the two presidential candidates during the third and final debate on Wednesday in Las Vegas. The gloves came off, though, during the final hour and there was some name-calling, eye-rolling, and plenty of interrupting. But perhaps the most notable line came courtesy of Donald Trump, who interrupted Hillary Clinton during her answer to a question about Social Security and Medicare with this: "Such a nasty woman."

It was one of the most bizarre interjections from Trump and one of the debate moments that quickly caught the attention of people watching at home. Twitter lit up in response.

Some people called out Trump's contradicting statements:

And — yep — women heard him loud and clear:

But based on Trump's earlier comment about "bad hombres," in reference to undocumented immigrants, some people were already looking ahead at the possibilities:

There were plenty of Janet Jackson references too:

TBD whether Trump defends his remarks:

Either way, Clinton didn't seem fazed: