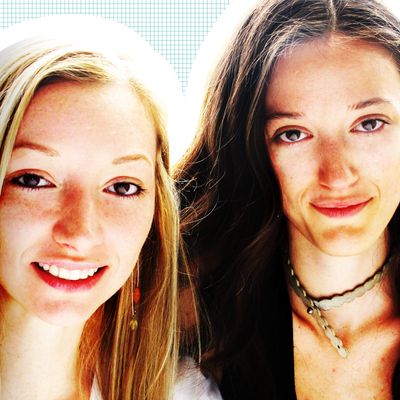 Taking Care of Business: a week devoted to taking our professional lives up a notch.
Everyone has heard the legend of the "back of the napkin" idea. A person — usually a man — has a great business idea hit him like a lightning bolt, he scribbles it down on the back of a napkin, takes that napkin into meetings with investors, and boom, he becomes a start-up kajillionaire in three months.
Colleen and Hailey Brooks — two sisters who also had an idea — would tell that story differently. When they decided in January of last year to open their own version of the currently di rigueur social-house model — one that incorporates fitness, wellness, and "intelligent leisure" called High Court — they knew it would be an uphill battle from the start. There were highs, lows, and a complete overhaul of the myth of the napkin when the two female founders started their business, and almost a year after their first meeting with investors, the Brooks sisters have completed their first round of fundraising. Here's what it took to get High Court off the ground.
A new kind of celebrity.
One sub-culture of celebrity — young start-up founders — has for the past few years really been at the center of our attention. It's a long road from the "back of the napkin" idea to closing your first round, and there's no real rulebook, no how-to guide. Since we had the idea for our business in January 2015, we've listened to podcast after podcast, read interview after interview, searched late-night Instagrams obsessively for moments of honesty from founders, looking for hints on how to get past the idea stage to actually getting funded. There aren't enough stories about the time between founders' quitting their full-time jobs and closing their first round of funding for their business. Maybe it's because after the shock of actually having pulled it off, founders don't want to revisit the difficult, gory first days.
The early, uneasy balancing act.
In the beginning, before Colleen left her job in private equity, she started building the plans for High Court. This wound up becoming a balancing act of two careers. Through hunting for real estate for High Court, building our advisory board, and selling an apartment she owned (which had a flood two days before closing) she shuffled everything before 8 a.m. or after 6 p.m. or took calls in empty conference rooms. Until I left my retail-consulting job in August, all of my calls for High Court took place from my "satellite office" — the upstairs of the Duane Reade in Herald Square.
Don't take every piece of advice you're given.
Most of the advice you will receive is circumstantial and it's mostly coming from people who are on the other side of the fundraising table. The advice we received was definitely very Silicon Valley–focused, too, even out here in New York. As women, we were advised nine out of ten times to try going with women-only angel investment groups because we were told that would be our best shot at actually getting funded. When we first started, mindfulness as a concept was just beginning to go mass and we had to do a lot of educating alongside our pitch. It was all good practice, but we learned not to wear ourselves out on the investors who just didn't get it. You have to seek potential partners who you know will get your vision from the outset.
It can be really hard to say no to people that you are working with, especially when you're just starting out. But if you feel you are getting led in a direction that doesn't feel comfortable, you should really do what feels right — you can't ever lose sight of your own gut through the piles of advice around you.
Rewrite your pitch deck — then rewrite it again — and again (and again).
Surely we aren't the only founders with over 150 versions of the same pitch deck. It's an endless editing process that at some point began to feel like it was collapsing in on itself. The good thing about the bad meetings is that we were always able to see the silver lining on how to hone our pitch. The multiple versions actually help the vision. By now, we've actually been able to circle back to something that sounds a lot like the very first version — the purest explanation of our idea.
You have to have thick skin.
Once, after what we thought was an amazing meeting, we asked a friend who had connected us to a potential investor for feedback, and the investor had told him that our idea would never work. Colleen met with a small business-lending group — who we thought we were turning to for support — only to have the woman deny the loan because we were a start-up. Afterward, the woman said to us, "I wouldn't have left my good paying job if I were you." We can't count how many times we've showed up to pitches only to be met with unhelpful analyses of our entire business plan, or what's worse, someone pitching our idea back to us as if it was their own.
Putting your personal life on hold is scary but sometimes it's necessary.
Before she had even taken on fundraising for the company full-time, Colleen was being set up on dates through a matchmaker. One time, the matchmaker's feedback was that her date — after she had met up with him after a long day of High Court meetings — thought that she didn't even seem like she wanted to be there and that she hadn't dressed well enough for the occasion. She realized how different her goals and priorities these days were, and that that was okay.
Be prepared to have periods of sleepless weeks and nights.
In June, we really wanted to show the world what High Court would look like, even though we hadn't secured a space yet. So we agreed that it wouldn't be too hard to put on a four day, multi-event pop-up version of the space. Four weeks later, we had turned ourselves into sleepless zombies, on-edge from the logistics of securing real estate (we found and lost four different spaces, one a week before the event), wrangling furniture and audio equipment, as well as eight yoga teachers, ten different panel speakers, over ten brand collaborators, food and beverage sponsors, and press to help promote the whole thing, all while one of us was still working full-time. Luckily we live together, so we knew there could be no moments wasted. We barely slept or had personal lives.
You will get your hopes dashed … a lot.
The head of a major player in fitness and hospitality contacted us to come in and talk about our plans for High Court. We of course thought of a million ways why this could be the best meeting we would ever take, but we decided to remove all expectations and keep our cards close to the chest. In the end, it was more of an information-gathering effort on their part, and while flattered, it was a hard meeting to walk away from empty-handed.
Immediately following that meeting, we had a phone call scheduled with someone who we thought was a promising investor, and as we took the call sitting on a curb in Chelsea, we soon found out that this person was much more interested in "mansplaining" to us the ways of the business world than actually listening to our pitch.
But at some point down the line, there will be rewarding moments, too.
There are also the amazing days — the ones that get posted and talked about on Snapchat and Instagram. Recently, we sat down with an investor so taken with the concept that we never opened the pitch deck once. That was the closest thing we have had to a successful "off the back of a napkin"-style meeting. Our matched visions for High Court and excitement for what we could create together was more important than our projected return metrics. We know that founders are never truly finished raising money, but there is nothing better than looking at the end of this first round of fundraising.