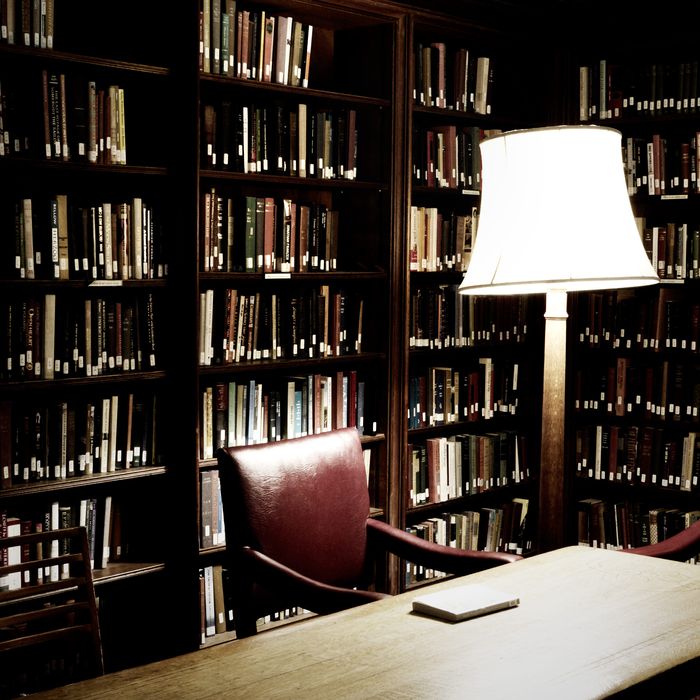 Get Sex Diaries delivered every week.
New York's Sex Diaries series asks anonymous city dwellers to record a week in their sex lives — with comic, tragic, often sexy, and always revealing results. This week, a professor flirting with someone who's not her husband: married, straight, Manhattan, 35.
DAY ONE
9 a.m. I roll on my new pair of Wolford black lace-trimmed stay-up stockings and Agent Provocateur lingerie. I take a photo of my thigh tops, filter it in black-and-white, and text it to J. He's someone I met a few months ago, fleetingly and platonically, at a Brooklyn Academy of Music event. I feel deeply in love with him. Or perhaps it's sexual infatuation. Either way, he sparkles my world. J loves stay-ups. J is not my husband.
The opportunity to hook up IRL hasn't presented itself. (Yet … ?!) I don't know what I'd do! I haven't had to really face that question yet. We haven't been in the same city since the event and have no plans to meet again. I read somewhere that there's no better way to get over someone than to fuck them, so maybe that would help us to get over one another? It's a risky strategy, though, since we could just as easily dive more deeply in love.
9:10 a.m. My underpants are wet. I wonder if turning myself on with sexy selfies is narcissistic. I rationalize that it is only through J's gaze that the photo takes on its erotic meaning.
Noon My phone notifies me that J has taken a screenshot. I'm beaming. I'll keep sending sexy selfies only as long as he continues to take screenshots of them.
DAY TWO
8 a.m. I load the dishwasher, shuffle the children (4 and 7) out the door, and drop them at school. As I walk to the subway, I text the babysitter with pick-up instructions. I distract myself from feeling like a canned sardine in the overcrowded carriage by pumping Lana Del Rey on maximum volume through my headphones, drafting responses to student emails, and sending them as my phone picks up Wi-Fi at each station.
9 a.m. I arrive on campus with enough time before my lecture to go to the library to pick up books for my latest paper. My phone buzzes. It's J. He wants to know if I'm being naughty. I text: "Not yet, sir. I'm being awfully good and it's dreadfully boring. Give me a few minutes." As I step up onto the third floor, I notice a librarian stacking books in a locked area. I make my way to the F. Scott Fitzgerald section. It is at the far end of the floor. It's so quiet that I am slightly nervous about being alone. I push a button that lights up the narrow aisle. I pick up The Beautiful and the Damned and flick through it, looking for the passage I need.
The lights go out. I guess they were on a five-minute timer. I listen. I hear nothing. I look for cameras. I see none. I text J: "I'm in the library. Alone. Standing in the dark. Thinking of you. My gray suit skirt is a little loose around the hips. My black blouse rides up when I stretch. I must remember not to write high on the blackboard during class."
I step back and lean gently against the shelves, not sure of their stability — or my own. I listen, again, to the silence. I look at the multiple copies of The Great Gatsby stacked neatly on the shadowy shelves. "All these beautiful words at my fingertips. All these books … It's turning me on, sir. Is that naughty?"
He confirms that yes, it is extremely naughty, and I need a good spanking. I tell him I want him to spank me, right here up against the Fitzgerald stacks, as hard as he likes, as long as he doesn't leave a mark. He says to think about his palm on my bottom ten times, and his fingers caressing me until I come. I send him our secret symbol for masturbation. (The pink vibrating-heart emoji.)
10 a.m. I make a mental note to myself to carry spare panties, because a wet G-string is no fun when one is about to start a very serious two-hour lecture. I launch into a class discussion on Carver's What We Talk About When We Talk About Love. I glow on the inside, my underwear serving as a reminder of what I text about when I text about love.
DAY THREE
6:30 a.m. I stir and reach for my phone. Thirty minutes of snoozing. Yay! Or perhaps not. During the night, my husband arrived home from a two-week work trip. He rolls over and snuggles into my back. He breathes my hair in deeply. His body stretches and tenses. His hand grasps my hip, softly, but assertively. His palm presses into my thigh. He pauses, waiting for a response. I stretch my hand back, play lovingly with his hair, and wiggle my bottom against his erection. He shuffles under the sheets, removes my pajama bottoms, and licks me. He resurfaces, spoons me, and enters me from behind. He reaches his hand around to stroke my clit. With a couple of thrusts and a gasp of relief, he squeezes me tightly, and slumps back into sleep.
6:36 a.m. I slide away and untangle myself from his arms. I find my pajamas amongst the sheets, pull them on, autopilot my way into the kitchen, turn on the coffee machine, hug the children, and ask what they want for breakfast.
7:15 a.m. My husband stumbles out of the bedroom, presses his lips to mine, frozen for a few seconds, then dives into a cuddle. I respond affectionately. "Oooh!" he says, as he raises his eyebrows and moves his hands to my bottom. "No," I say, and grab the children's cinnamon-raisin bagels springing up from the toaster. "How do you know me so well?" he asks.
I wonder how it is that he doesn't know me so well. I tell him that I have a meeting at work for which I can't be late, and that it'd be nice if kisses and hugs did not have to always lead to sex. He laughs and nods sheepishly, as he always does when I talk about this. I ought to be flattered that after ten years my husband still wants to fuck me constantly. He is generous in the bedroom, but his sexual desire is so tireless that I sometimes feel little more than an object of his carnal relief and struggle to detach sex from fulfilling a wifely duty. I resent that I can't initiate an intimate touch without feeling like a zebra voluntarily surrendering itself to a voracious wildcat. I miss kissing. I miss sensuality.
9 a.m. I walk the long way to my office to avoid the library.
5 p.m. I walk the long way from my office to the subway so as to avoid the library. What if there was a hidden security camera that I hadn't noticed? What if security footage starring me is all over YouTube now? And, by the way, who am I? Pre-J, I was a poster girl for monogamy. Texting is just words, right? J and I haven't fucked, so maybe I'm not doing anything wrong? I know I'm lying to myself.
6 p.m. I make dinner, put the children to bed, and then go back to working on a paper.
9:30 p.m. My husband gets home from work.
10:30 p.m. We talk about nothing in particular, then fall asleep listening to Tender Is the Night on Audible.
DAY FOUR
7 a.m. I look at my phone. There are text notifications from J. I delay checking them, partly because I don't want my husband to see me, and partly because I want to wallow in the knowledge that he has been thinking of me.
7:30 a.m. My husband kisses our children and me. He flies out the door with his surfboard to catch yet another flight. I take the children to school.
9:15 a.m. I close my office door and read J's texts in peace. He wants to know if I really masturbated in the library. I want to tell him that, if anything, I overshare the truth with him, but he would doubt that too, so it seems redundant. I don't blame him for being skeptical. There is so much about us that doesn't seem believable. That this is happening. That we're attracted to one another. That it's so passionate. And those texts that expire into a void of nothingness are seductively deceptive. It creates the impression that our togetherness exists in an alternate dimension of time and space. But I know that this is a convenient illusion and suppress my anxiety about my two worlds colliding.
9:20 a.m. Back to work.
11 p.m. I lie in bed alone. I want to text J and tell him that there's a beautiful full moon rising and that I'd like to tie all my love to it so that when he sees it tomorrow, he will be showered with kisses. But I don't. Instead, I ask if, one day, may I please wake him up by sucking his cock like a strawberry lollipop?
DAY FIVE
9:30 a.m. J tells me he wouldn't mind at all. He asks if we can live chat again soon. He signs off with "Love, J." Swoon!
2 p.m. I Google "BDSM" while the children are taking piano lessons. I find an online quiz. Apparently, I want to be a "Brat Submissive." Some submissives do housework, which sounds like torture to me. I don't mind baking an occasional cake, though. I text J a possible time for a live text session and tell him about my research. I ask if he'd mind me being a brat submissive and if he'd like me to make him tea and cake. Jamie Oliver's chocolate Guinness or Claudia Roden's orange-almond cake? He chooses Claudia.
6:30 p.m. My husband Skypes to say good night. His surfing vacation is going well. I tell him about the children's day and the mountain of laundry that I had done. He says thank you. I'm good with my current arrangement. I adore my children, my husband, and my life, and wouldn't want to change anything. Maybe if I didn't have children, or if they were at college, my attitude would be different, but having a stable and loving environment for them while they're growing up takes priority over my sexual satisfaction. Moreover, I have no idea what (if anything) lies beyond the passion with J. I spend the rest of the evening working.
DAY SIX
9 a.m. I do yoga at home, since I can't take the children to class with me. They crawl under my down dogs, and try to climb my triangle pose. I collapse under their weight but love them so much that if we weren't laughing so hard I am sure I'd be in tears.
Noon The children and I spend the afternoon running around the city to three different birthday parties.
4 p.m. J texts to say that he's looking forward to tomorrow. He requests white cotton panties and stay-ups.
DAY SEVEN
8:30 a.m. I notify the office that I'll be working from home and drop the children at school.
9:30 a.m. Back at the apartment, I roll on my black stockings and white cotton Calvin Klein underwear to the beat of my effervescent heart and Sexual by Neiked on Spotify, which is a breathtakingly accurate description of my feelings for J. I slip on a white lace vintage YSL dress that I found at an East Village thrift shop over summer. I sit on the floor in front of the mirror, spread my stockinged legs wide, put one hand down the front of my panties, take a photo, and send it to J, with the message: "Just checking, sir … yes, already wet."
10 a.m. He responds with encouraging exclamation marks and takes a screenshot. He asks if I have been naughty. I laugh. "Yes, very naughty, sir. What are you going to do about it?" He asks me to choose my punishment.
After some discussion, we decide that he will caress me to the brink of orgasm, stop while I blow him, and then I'll masturbate while he watches. If I forget to ask permission to orgasm or forget to call him "sir," then I will be liable for another spanking. I ask him what he would do if I were to resist. He says that I won't be able to resist. He's right. Not only do I think that it'd be hot for him to spank me, but my love for him blinds, deafens, and mutes me to such an extent that I think I'd try almost anything he asked me. He suspects it, but I will not tell him that. I send him our secret masturbating symbol. He sends me one too.
8 p.m. After kissing the children good night, I shower, scrubbing my skin as if exfoliating away my melancholy about the distance between J and me, and my husband and me. Am I being greedy for love? Will there be a price to pay? My passion for J is a secret rebellion that affirms, calms, and excites me, all at the same time. Every text feels like I am daring J to break my heart. Each text throws me into a mini ecstatic rapture. I'm addicted to this J-fueled dopamine rush. J is a love dragon that I don't want to stop chasing. Well, at least until he stops chasing me.
9 p.m. I text J to say thanks for our earlier text session. I accompany it with a photo of my shaved pussy, filtered in black-and-white. And our secret masturbating symbol.
Get Sex Diaries delivered every week.
Want to submit a sex diary? Email sexdiaries@nymag.com and tell us a little about yourself.