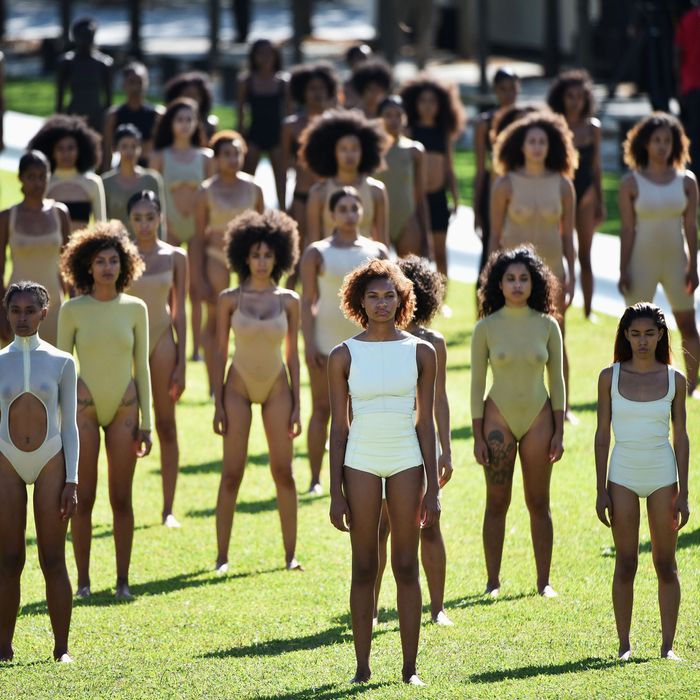 Models at Yeezy Season 4.
Photo: Bryan Bedder/Getty Images for Yeezy Season 4
Whatever else you can say about the much-reviled Yeezy Season 4 show — and everyone has said a lot — it featured a much more diverse cast than most runway shows (as did the three previous seasons). The Fashion Spot has released its biannual diversity report, taking into account how the shows stacked up in terms of racial, age, and body diversity this season. Among New York Fashion Week shows, Yeezy was the most diverse by TFS's metric — though Kanye West's casting call for "multiracial" women came in for its own share of criticism — while The Row came in last, at a resounding 0 percent diverse.

Other findings of interest: Overall, London, Milan, and Paris fashion weeks improved with regard to racial diversity, while New York only had a small uptick. That's explained in part by the fact that NYFW has historically had the best diversity record out of the four, and remains the most diverse of the group overall.
There's been a small increase in age diversity, with more models over 50 walking this season, including a dynamite appearance from Lauren Hutton at Bottega Veneta. Body diversity is still incredibly underrepresented on the runways, with not a single European fashion week casting a plus-size model. (More designers might want to put the Chromat show, which reliably features a cast with an array of body types all looking great in activewear, on their radar.) And ten transgender models walked the runway this Fashion Month, four of them at Chromat, which marked a small increase from last season. Clearly, fashion still has a long way to go when it comes to representing the world around it.