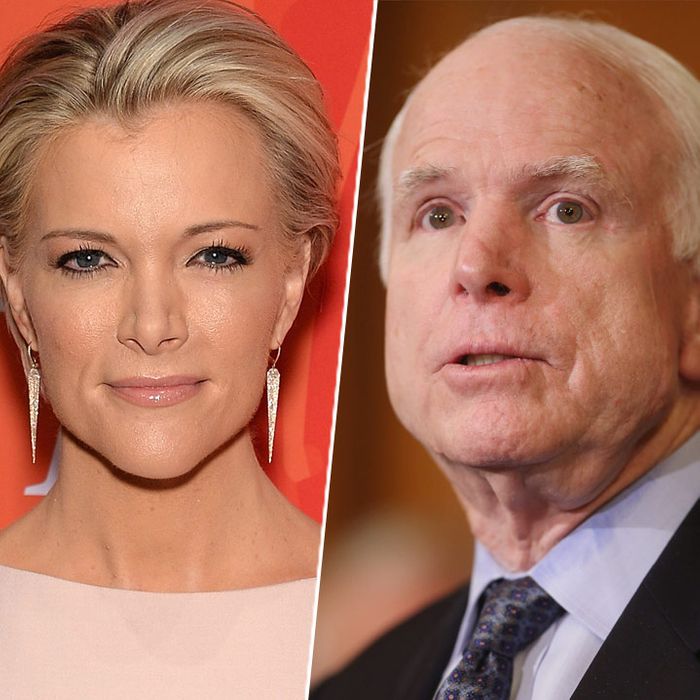 Unexpected, maybe, but we'll take it.
Photo: Getty Images
Donald Trump kicked off his presidential run by making racist generalizations about Mexican immigrants. He doubled down by insisting a so-called Mexican judge was unfit to rule in a Trump University case and followed up with calls for a blanket ban on Muslims entering the United States. In other words, he's attacked and insulted virtually every minority group in the country. But some of his most pervasive and heinous comments have been about women.
He's called them "fat pigs" and "dogs," has said letting them work is "dangerous," has called for them to be punished for getting abortions, and has said demeaning and sexist things about their bodies. But the final straw for many of his former supporters seems to have been a 2005 Access Hollywood tape in which he brags about sexual assault.
But when Trump claimed on national television that he'd never sexually assaulted women after being caught on tape bragging about it, more than half a dozen women came forward with allegations that Trump sexually assaulted them. And their claims, along with the tape's contents, have prompted some of the most conservative congresspeople, pundits, and Christian leaders to speak out against him. Here are six of the 2016 election's most surprising champions of women.
Megyn Kelly
Just after the first Republican debate, Donald Trump appeared on CNN to discuss his treatment at the hands of Fox News moderator Megyn Kelly. He was — in a word — displeased. "She starts asking me all sorts of ridiculous questions," Trump said. "You could see there was blood coming out of her eyes, blood coming out of her wherever." In the weeks that followed, Trump claimed he'd been referring to Kelly's nose and attacked Kelly viciously on Twitter, but their feud ostensibly ended after the two made peace in Trump Tower, and Trump even consented to be interviewed by her for a much-hyped Fox special. But repeatedly calling someone a "bimbo" can do a lot to change her point of view. In June, Kelly used her platform at Fox to criticize CNN for hiring former Trump campaign manager Corey Lewandowski, who she said, "has had some very ugly language attributed to him when it comes to women."
Then, in late September, Kelly dragged current Trump campaign manager Kellyanne Conway over the coals in regard to Trump's long, long history of sexism. "He has repeatedly made comments about women, about their looks, their size, their weight, even in this campaign, talking about Carly Fiorina's face, retweeting a negative picture of Heidi Cruz's face, criticizing Hillary Clinton in her look — Kellyanne, this is an issue for him, is it not?" she pressed. (Conway replied with a "maybe.")

Kelly also burned noted Trump supporter Sean Hannity after the second presidential debate, prompting Hannity to wonder out loud whether Kelly is a Clinton supporter. That particular feud has more to do with competition at Fox than it does with the fact that Hannity is standing by Trump through his sexual-assault allegations, but it was refreshing all the same.
John McCain
Yes, John McCain is definitely, definitely still a Republican. But after endorsing Trump, the Arizona senator pulled his support when the now-infamous Access Hollywood tape in which Trump brags about sexually assaulting women came to light. McCain released a statement after the tape's publication, stressing Trump's mistreatment of women:
There are no excuses for Donald Trump's offensive and demeaning comments in the just released video; no woman should ever be victimized by this kind of inappropriate behavior. He alone bears the burden of his conduct and alone should suffer the consequences.

Donald Trump's behavior this week, concluding with the disclosure of his demeaning comments about women and his boasts about sexual assaults, make it impossible to continue to offer even conditional support for his candidacy. Cindy, with her strong background in human rights and respect for women, fully agrees with me in this.

Cindy and I will not vote for Donald Trump. I have never voted for a Democratic presidential candidate and we will not vote for Hillary Clinton. We will write in the name of some good conservative Republican who is qualified to be President.
Female evangelical leaders
Trump had a tough enough time securing the votes of evangelical Christians. After the Access Hollywood tape dropped, evangelical bigwig Jerry Falwell Jr. openly forgave Trump, saying, "We're all sinners." But evangelical women had had enough. "I'm one among many women sexually abused, misused, stared down, heckled, talked naughty to. Like we liked it. We didn't. We're tired of it," Beth Moore, the founder of Living Proof Ministries, told the Daily Beast. "Try to absorb how acceptable the disesteem and objectifying of women has been when some Christian leaders don't think it's a big deal." And she's not the only female evangelist speaking out against Trump.
"When I first heard the tape, I was shocked, and a bit surprised at how deeply it hit me," said Sara Groves, a contemporary Christian singer. "I immediately thought of my own experiences, and of friends who have experienced much worse." Reverend Lisa Sharon Harper, the chief engagement officer for Sojourners — a Christian magazine — said Trump's "assaults on women are direct assaults against the image of God on earth," and Dr. Barbara Williams-Skinner, a pro-life African-American Christian leader, said evangelical leaders who ignore Trump's mistreatment of women are failing to "stand up, as Jesus did, against every form of racism and bigotry on open display almost daily by Donald Trump."
Kelly Ayotte
Sure, New Hampshire senator Kelly Ayotte has been in a fight with Donald Trump since August, but she maintained her support for Trump's candidacy … until the Access Hollywood tape was released. At that point Ayotte, who's in a competitive race for reelection, officially disavowed the Republican nominee, saying in a statement, "I wanted to be able to support my party's nominee, chosen by the people, because I feel strongly that we need a change in direction for our country. However, I'm a mom and an American first, and I cannot and will not support a candidate for president who brags about degrading and assaulting women." Ayotte said she'll still vote in November, but she plans to write in Mike Pence, whose brand of sexism is slightly subtler.

Ana Navarro
Earlier this month the Miami Herald accurately wrote that Ana Navarro has "become the voice of the outraged Republican woman." She's been known for critiquing her own party since CNN hired her in 2012, but her criticism has become more pointed as the Republican nominee for president has deviated from the traditional party line. After the Access Hollywood tape was released, she railed against Trump's sexism for at least 30 seconds of airtime:
How many times does he get away with saying something misogynistic before we call him a misogynist? How many times does he get away with saying something sexist before we acknowledge it is he who is a sexist? It is not enough for Republican leadership to disavow his comments, to condemn his words. It is time to condemn the man.
It is time to ask him to step down. It is time to tell America he does not represent Republican values. He is a pig. He is vile. This is consistent behavior from him. The only difference is that now we have him on tape, and now we have him on video. But this man is not fit to be president of the United States. He is not fit to be the Republican nominee. He is not fit to be called a man.
Donald Trump
I know, I know, but hear me out. While Trump's running mate Pence represents the GOP standard — a man who proposes and enacts policies that are bad for women under the guise that they're actually good for women — Trump's one service, as New York's Rebecca Traister pointed out, is that he took what was already present beneath the surface of the Republican Party and brought it into full view. Silver linings, right?