I was almost thrilled when the Céline publicist said Phoebe Philo wasn't seeing anyone backstage after the show — thrilled for Philo. It meant she wouldn't have to explain her clothes, which she is very clumsy at doing. In the moments before the show, at the Tennis Club of Paris, she had come out and chatted with a few editors, an uncharacteristic move — and obviously done to suppress gossip. Last year, there was a rumor that Philo wanted to leave Céline.
Although a few writers have come close to nailing the effect of a Philo presentation (Sarah Mower is invariably good), their words, too, seem to fall short of the mark. And what is the target, exactly? Most designers pursue a theme (Jeremy Scott), or an aesthetic (Demna Gvasalia of Balenciaga), or a conceptual comet (Rei Kawakubo). But Philo works off a ragged bunch of feelings that are connected to women's daily lives, which of course include how they feel about their attractiveness. As a result, a Céline show is likely to have styles that are pretty, eccentrically elegant, and even downright naff. Take the pants she sent out on Sunday, with printed cuffs of chiffon flopping over the shoes — like an errant bit of trash that gets stuck on your toe. Or the oversized white blazer that looked like something you'd pull from the back of your closet (the '80s section) because you're in a hurry and, well, it won't look too bad …
Philo isn't mocking the woman who thinks that way. On the contrary, she recognizes that ambivalence and actually builds on it — by brightening the white, mixing the jacket with roomy leather pants, and ignoring the taboo of wearing stockings (never mind white ones) with sandals. In the end, it's Philo's sensibility that holds the most attraction, and also the most mystery.
Because the soundtrack for the show began with what sounded like earth-moving machinery mingled with traffic, I inferred from the many loose and ad hoc pairings that she sees dressing as a daily construction project. The results could look disorderly, as when the models wore different colors of the same shoe style and carried sleek, ladylike pocketbooks. They could look rudimentary: a Yves Klein–inspired body print on the front of a gauzy white dress. Or they could give off a feeling of wonder. Among Philo's most beguiling designs were long sack dresses, one in lime-green cotton with a lower half in pleated magenta chiffon, and the other in power-blue cotton with the lower portion in a darker shade of blue. The necks of each were tied high, almost like a surgical smock, and the sleeves were pushed up above the elbows.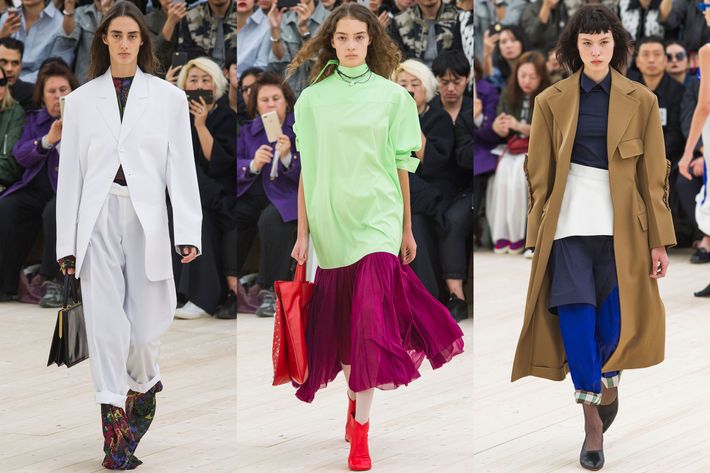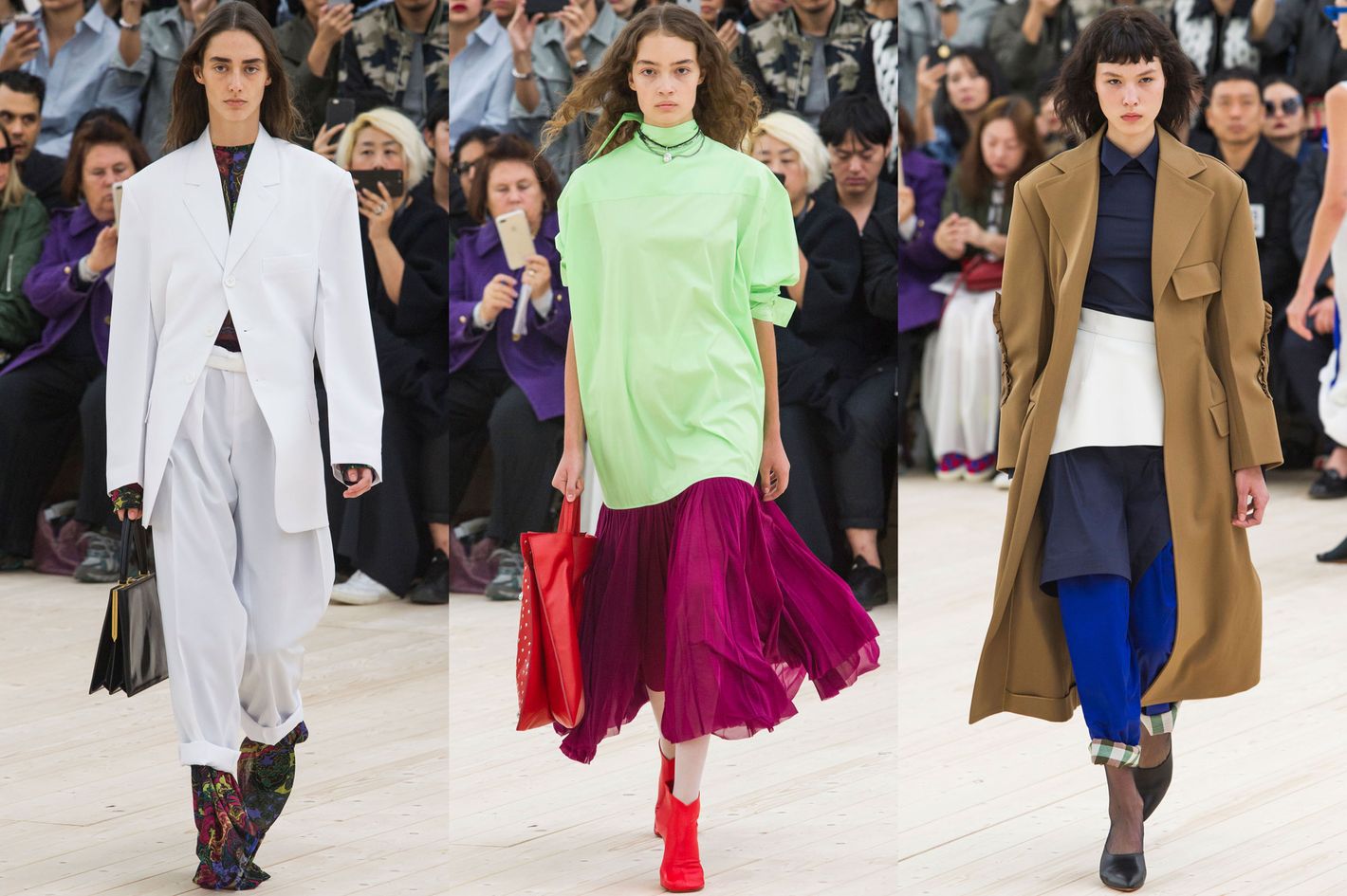 To me, those strange and beautiful dresses were part of the private language that Philo has created around Céline. If you got that, you didn't need an explanation.
I was never a big fan of the Valentino collections designed by Maria Grazia Chiuri and Pierpaolo Piccioli over the last eight years; despite their attention to detail, their perspective often struck me as rigid, their clothes somehow flat. So I was surprised by the personality in Piccioli's first solo effort for the brand (Chiuri is now at Dior). It was displayed in the luscious shades of pink, in the easy shift from long, fluid dresses to casual shirts and knits with washed-pink brocade jeans, and in the models' flat velvet shoes and simple plaited hair. Where have you been hiding, Mr. Piccioli?
People were naturally curious to see the division of strengths between Chiuri and Piccioli, but it's too early to say, and probably doesn't even matter. Piccioli obviously feels a new sense of freedom, and I loved that he worked so many sportswear pieces into the show, like the slouchy brocade jeans with their frayed hems and a terrific coat in washed and frayed khaki that was shown over a long dress. It all looked "Valentino," but now in a way that made me curious to see more.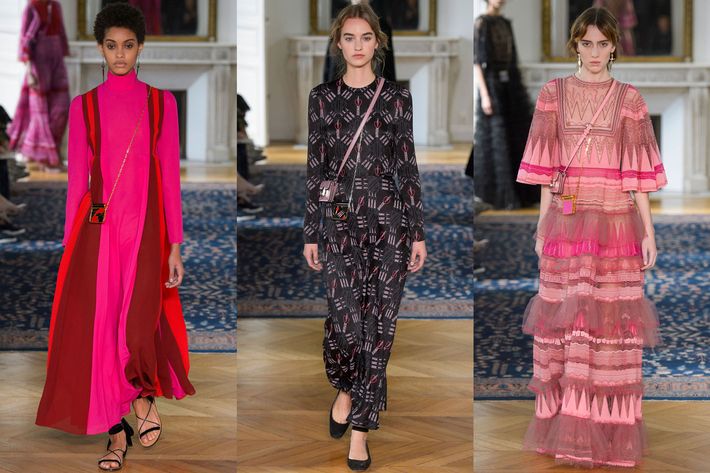 Where Philo and Piccioli seem dedicated to a personality, Demna Gvasalia is more interested in technical leaps: This season's Balenciaga collection depended heavily on Spandex. On the plus side, the material allowed Gvasalia some very saturated colors — fresh shades of brick-red, sky-blue, purple, and marigold. Some of the best looks of the week were Balenciaga's draped minidresses (over contrasting Spandex boot-leggings), and a long, floating column in purple over a hot-pink second skin.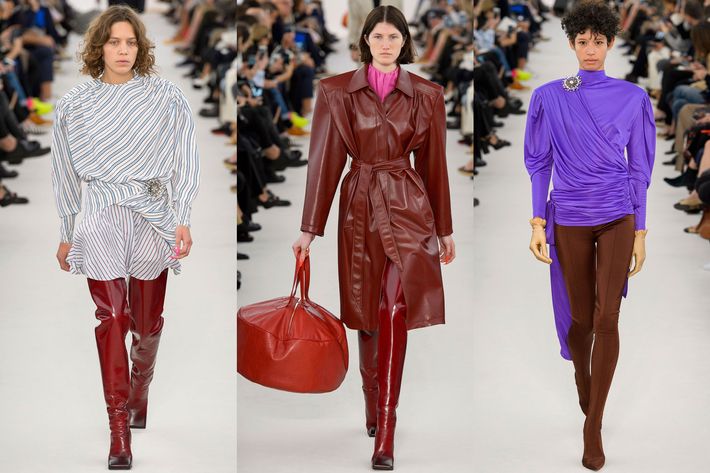 But Gvasalia's continued manipulations of tailoring — masculine jackets made extremely narrow and sharp in the shoulders with whalebone — are wearing thin. They certainly don't shock anyone, any more than a kinky rubber raincoat does. In fact, what was missing was a human dimension, a real sense of sincerity and surprise. The little draped dresses, with their offhand luster, came close.