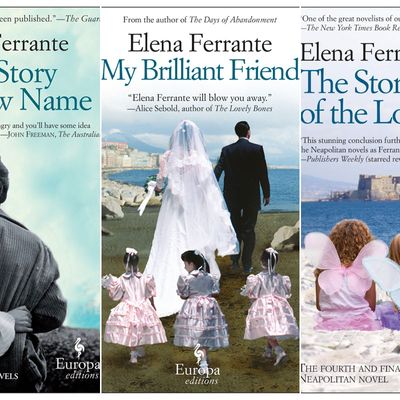 One of the most delicious modern literary mysteries is the identity of Elena Ferrante, whose Neapolitan novels have become a global sensation and turned her into an official Literary Girl Crush. People have tried before to unmask Ferrante, who has intimated that if her identity were revealed she would stop writing.
The latest outlet to attempt to answer the question of Ferrante's identity is the New York Review of Books, in anticipation of the release of Frantumaglia: A Writer's Journey. Reporter Claudio Gatti writes, "Far from the daughter of a Neapolitan seamstress described in Frantumaglia, new revelations from real estate and financial records point to Anita Raja, a Rome-based translator whose German-born mother fled the Holocaust and later married a Neapolitan magistrate." Included is a photo of Raja herself. Is this the mysterious Ferrante? If so, will this finally put to rest that a man wrote the novels that have riveted women around the world?

Gatti specifically focuses on Raja's finances vis-à-vis recent real estate purchases and an influx of payments from the company that publishes Ferrante's work, supposedly from work as a translator and running an imprint that happened to put out "'three or four books, including Ferrante's first novel,' in the 1990s.'"

There's plenty of data in the article for armchair detectives who are curious about whether or not it all adds up, but perhaps an even important question than whether or not Raja writes under Ferrante's name is how this will affect the trajectory of Ferrante's career. Will she stop writing? If not, how will her future novels be different now that her readers know her real identity? Why can't we just leave Ferrante alone?