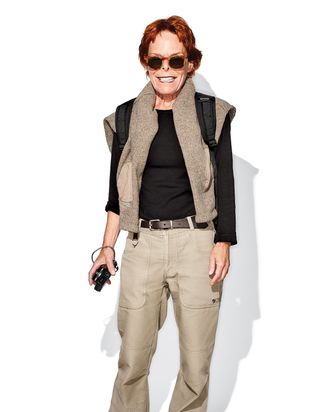 "Even though it's the capital of Switzerland, no one knows where it is."
Photo: Bobby Doherty/New York Magazine
Catrine Diebold, Retired Social Worker
What are you up to today?
We were just at the MoMA. My cousin and I are on holiday in New York. We're from Bern — in Switzerland. Even though it's the capital of Switzerland, no one knows where it is. We're staying at an Airbnb in the East Village that's very, very nice, but the fire alarm has gone off three times! The first time it was a toaster, and the second time it was the oven, and this morning we made scrambled eggs and then again the alarm went off. We were fully out of our minds, but it stops if you open the window.
Do you and your cousin travel together frequently?
Yes, we were just in Italy. My husband is home with our dog — she's a French hunting dog, and she's 15. We don't know how long she will be alive, and we want one of us to be there if something happens to her. So he just went on holiday to Spain, and now I'm in New York.
What do you like most about the city so far?
I was really surprised by how respectful people are of one another here. Except when we were having trouble with our MetroCard at JFK. An American lady yelled at us.
Lightning Round
Born in: Basel.
Retired: Three years ago. "I work in our garden, I walk our dog, and I do qigong."
Election thoughts: "We don't understand what is happening here. It's the system that's the problem, the two-party system. If I were able to vote, I don't know if I would vote for either of them."
Currently reading: From the Berlin Journal, by Max Frisch.
*This article appears in the October 17, 2016, issue of New York Magazine.