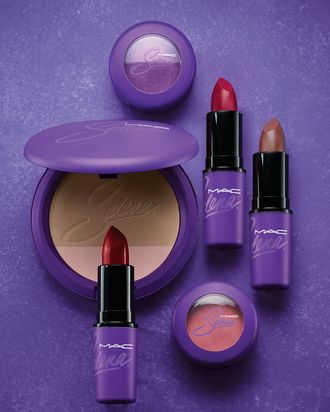 The Selena x M.A.C collection
Photo: Courtesy of MAC
Last year, a petition on Change.org persuaded the makeup wizards at M.A.C to create a collection in honor of late singer, Selena Quintanilla-Pérez. When the line finally debuted on maccosmetics.com last Saturday everyone was pleased and orders were successfully fulfilled. Just kidding, the collection instantly sold out, the site crashed for a while, and everyone mourned on Twitter.
A few entrepreneurial cretins decided to cash in on the sold-out line. Right now the entire collection is for sale on eBay for $3,055. To compare, M.A.C is asking for $259. If the $3,000 price tag is too rich for your blood, there are individual pieces of the line for grabs on the auction site as well, including a $350 lipstick and blush/bronzer duo, a $165 eye-shadow set, and a $300 lipstick trio.
Snooping around your local M.A.C store won't help the sold-out predicament. Fans camped outside of malls last night in anticipation of today's in-store release, and many of those brick-and-mortar locations appear to be sold-out as well. On the bright side, M.A.C confirms that they'll restock the collection soon. If you can wait a over year for the collection, surely you can wait a few more weeks.