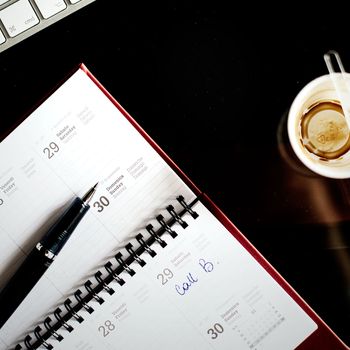 Get Sex Diaries delivered every week.
New York's Sex Diaries series asks anonymous city dwellers to record a week in their sex lives — with comic, tragic, often sexy, and always revealing results. This week, an Andy García–lookalike lawyer trying to date after a ten-year hiatus: single, straight, Murray Hill, 40 years old.
DAY ONE
7:00 a.m. I am a single father, trying to be a good role model and keep it together for the sake of my two kids, who are around 10 and 13. Fortunately, for the sake of this diary, my kids are away with my parents this week.
Noon I've been online dating for only a few months. I held out as long as possible, but I'm 40 now. I haven't had a serious relationship since my divorce ten years ago, though I have had a lot of great but meaningless sex. I feel it might be time to meet the One. Or, the Eight. Yes, I'm currently chatting with eight or so lovely women online. I've slept with a few of them already.
8:00 p.m. I've lined up my dinners, drinks, and dates for the upcoming week. I don't want to sound like a player, but when you have limited time like I do, you have to make the most of your freedom.
10:00 p.m. Liza, the girl I'm the most into — who I slept with once, after our third date (cliché!) — texts that she's excited about the comedy show we're seeing on Tuesday. She sends a really sexy selfie: her in a tiny T-shirt, brushing her teeth before bed. That does not sound sexy, but it is. Her tits are amazing. Not real. But amazing.
DAY TWO

6:30 a.m. My body is used to an early wake-up because of the kids, so I pull myself out of bed and go on a nice run. I listen to old-school hip-hop.
8:45 a.m. I own my own law firm, and the office is near my apartment. I walk in and say hello to my secretary and employees. They're all superstars. My desk has photos of my kids, drawings from them, cards from them. My ex is not really in the picture. The kids see her a few times a year. She lives mostly on the West Coast and has issues that aren't mine to discuss.
10:00 a.m. Online dating is extremely distracting and such a time-suck. I actually had to tell my staff that I joined Tinder and Bumble because I didn't want them thinking I was just at my desk texting and bullshitting all day. Everyone was really supportive. We're a close bunch. I text with Jada about tonight's date: drinks and a movie. This is our second date. Jada is a single mother so we have a lot to talk about, but on our first date I felt like it might be hard to, shall I say, go to bed with her. I'm just not sure about the attraction. She has a really big face — oof. I'm sorry I said that.
11:00 p.m. The date went pretty well. I loved the movie. Afterward, we got one more drink, then got into an Uber and kissed a little. (I Ubered her home and then myself home. My staff tells me that is a must.) Still, I'm not dying to rip her clothes off — and with my life, that intensity has to be there to make it worth it.
11:40 p.m. Jada texted that she had a great night and wants to hang again "tomorrow." Tomorrow? I'm flattered, but OY.
DAY THREE
7:30 a.m. Post run, I jerk off in the shower. It's normally to no one in particular: just brunettes with huge tits. Except for last week, when my buddy dared me to jerk off to Ivanka Trump. Her last name was NOT the boner-killer I hoped it would be.
11:00 a.m. I am simultaneously texting with Liza about plans for tonight and Mandy (pretty, Asian, name-drops a lot) about drinks for tomorrow. Let's stick to Liza for clarity's sake. (Trust me, this stuff gets confusing, even for me.) Liza is young, 28 maybe, and very much unburdened by marriage or mortgages, being a New Yorker or Real Life. Essentially, life is good when you're a hottie named Liza — with gorgeous tits and a small studio apartment filled with expensive candles and pretty things. I have no idea why she slept with me last week. She told me I kinda look like Andy García, which I promise is not true, but might explain why she keeps sending me sexy pics and seems really pumped about tonight.
2:00 p.m. I show some of my staffers the pictures Liza keeps sending. They all basically respond the same way: "Trouble!" I think, Good. I deserve some trouble. I raised two great kids on my own and put them first every day of my life. I don't deserve a medal for that — it's what parenting is — but I might deserve a few more nights with Liza.
9:00 p.m. This comedy show is very funny. We're having a great time.
11:00 p.m. We're drinking at a trendy Mexican place and I'm feeling good. Liza looks amazing. I wonder what her deal is (gold digger?), but I also don't really care right now.
3:00 a.m. I just got home after having sex twice with Liza. We did it all over her apartment. She was pretty much sloppy drunk; I was drunk, too. She told me over and over I didn't have to wear a condom, but I did, of course. Now I'm home and so turned off by her wasted-ness and desire to have unprotected sex. I can't sleep because the aggressive no-condom thing disappoints me. Either she wants an older, wealthier guy to get her pregnant, or she has very little self-respect and is willing to fuck a virtual stranger without thinking about consequences. Sorry to be such a Dad about it but — yuck, what a turn off.
DAY FOUR

8:00 a.m. I'm hungover. I miss my kids and feel depressed about the dating scene.
10:45 a.m. I cancel on what's-her-face — Mandy — for tonight. Need a break.
7:00 p.m. I order Thai food and watch a little TV. Stranger Things is very overrated.
DAY FIVE

11:30 a.m. Liza has texted twice since our night; things like "let's hang" and "yo yo yo." I'm writing back but intentionally not asking her out again. I hope she gets the hint.
2:00 p.m. I have a shmoozy work event tonight that I'm bringing Emma to. I slept with her a few weeks ago after we had one-too-many drinks on our first date. It was good. Emma is very cool, very grounded, also a lawyer. I think she is reluctant about dating me because I told her I'm done having kids. That's not something a 38-year-old Jewish girl typically wants to hear. I respect that. But I also know this fact about myself. Anyway, it felt appropriate enough to bring her to this event because she's in the legal field. And damn it, I'm sick of going to everything alone!
7:30 p.m. Emma arrives and we kiss hello on the lips. It feels good. We move through the room at a nice rhythm. Not to sound egotistical, but we look like a very attractive couple.
9:00 p.m. We sneak out of the event with two Champagne glasses and find some privacy in another room. It's dark. We start kissing. She puts her hand on my erection, which is really big and hard. She says something about my big dick. (I am decently hung, but I think all women know that's something men want to hear, even if it's a small fib.) I can't believe Emma wants to do it here, in the same building where the lawyer party is. The"I have kids, have to be a good role model, can't fuck anything up" thing takes over my brain. I can't bring myself to do it. I tell her I have to say some good-byes and we'll get out of there soon.
Midnight Emma just left my place. We had great sex in my bed. Side note: Girls are putting a finger up the ass, huh. I don't really like it, but I don't want to seem like a prude. After sex, we took a lovely shower together. I can see dating her long-term. She did mention again that her clock is ticking, though. I am too tired to think about that right now.
DAY SIX

8:00 a.m. My kids are back, my kids are back! I missed them. I cancel my date for tonight, even though I have a regular Friday-night sitter. I also tell the office I'm not coming in. I want to take both kids to school and be around when they come home.
8:45 p.m. I get into bed shortly after my kids do. I don't even text any of the ladies back. Online dating is draining; it feels gross to me right now. Maybe I'm just burnt out
DAY SEVEN
10:00 a.m. I canceled half my dates this week and probably "ghosted" a little here and there — I did my best. Emma seems to be itching for another date, but I have a lot going on right now. And … I'm not sure I can deliver on the level she wants me to.
3:00 p.m. I turn on Tinder while my kids play with their friends. I think I haven't met the right woman yet. I wouldn't be so fast to cancel or blow someone off if in my heart I knew she was someone I could fall in love with, someone who could join my beautiful family. I'm sure many will say my standards of love and dating are too high, that love can grow, I should be open-minded … but that's just my deal right now.
10:00 p.m. I get a message from a newly divorced woman with a baby. She says she's not sure what she's looking for but a bottle of red and a juicy conversation is a good start. I am intrigued.
Get Sex Diaries delivered every week.
Want to submit a sex diary? Email sexdiaries@nymag.com and tell us a little about yourself.