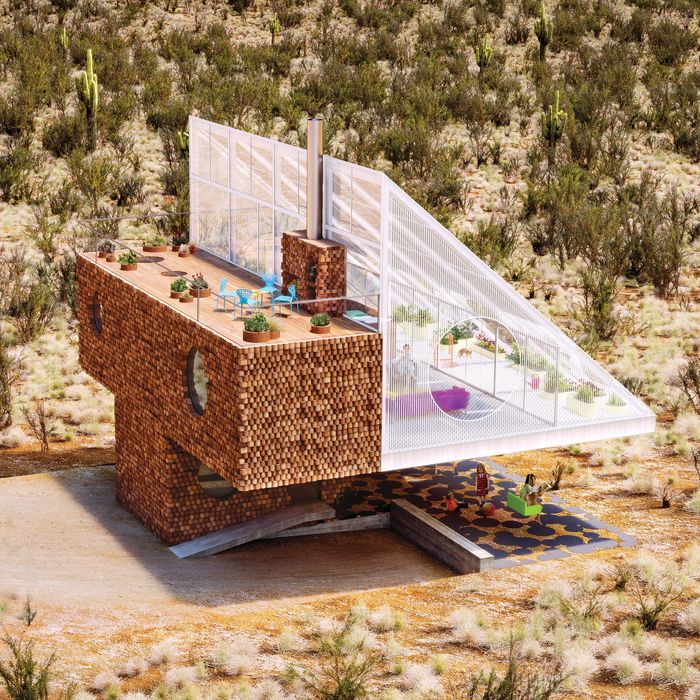 Confronting climate change with a solar-powered adobe.
Photo-Illustration: Rendering courtesy of Workac and Mass Visual
Modern life in the southwestern desert usually consists of slipping from one expensively cooled capsule to another, through a band of violent heat. But WorkAC, the New York–based firm founded by spouses Dan Wood and Amale Andraos, is designing a more climatically virtuous high-tech house for a family in southern Arizona. The guesthouse (the clients' main house is nearby on the property) is powered by the sun and cooled by the Earth. The bedrooms are tucked inside thick adobe-brick walls, like an above­ground basement, while the living and dining rooms fit into a cantilevered glass wedge anchored by a brick column. Its pitched roof is lined with solar panels, and its southern exposure is fronted by a sun-soaked greenhouse. Inspired by Michael Reynolds's 1970s Earthship houses, which were made of recycled materials, half-buried, and off the grid, WorkAC developed a way to cool air in underground ducts and pull it through the house by venting heat from the greenhouse roof. The goal is a kind of aesthetic grace prompted by the desire to rest lightly on the land. "We're trying to reclaim an optimistic sense of the future in the face of dire climatic news," Wood says.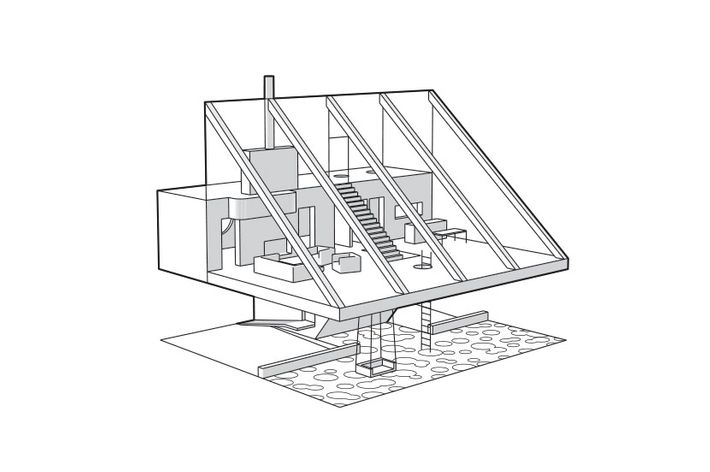 The Walls
Thick and made of adobe bricks, they give bedrooms privacy and keep them naturally insulated.
The Central Column
Cantilevering the whole structure from a central column keeps the footprint small.
The Pitched Roof
It's covered in solar panels, shading the living/dining areas.
The Greenhouse
South-facing, it absorbs the sun's heat. Hot air vents to the outdoors, drawing cool air into the house from ducts underground.
The Patio
The big overhang shades the patio while still allowing expansive desert views.
*This article appears in the October 17, 2016, issue of New York Magazine.