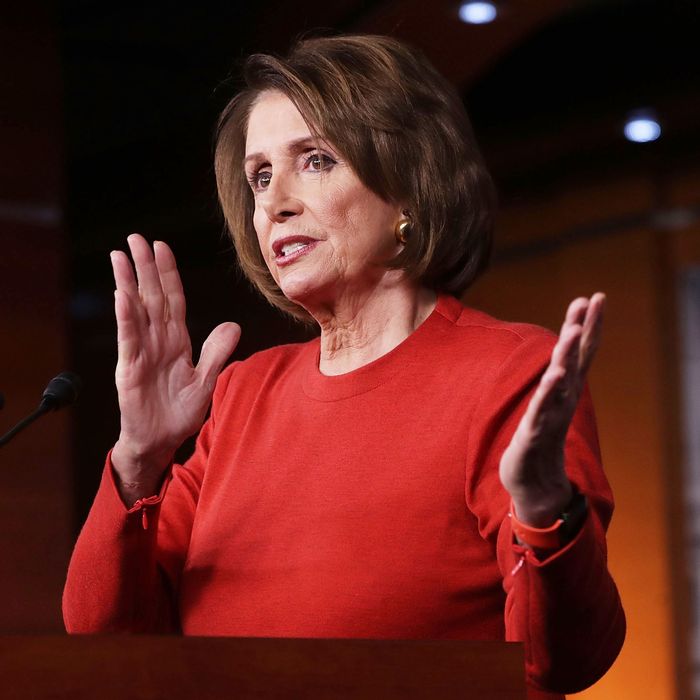 There's a slim chance Nancy Pelosi will regain her seat as Speaker of the House.
Photo: Alex Wong/Getty Images
After Donald Trump called Hillary Clinton a "nasty woman" during the third presidential debate, Elizabeth Warren had a masterful response. "Get this, Donald — nasty women are tough, nasty women are smart, and nasty women vote," Warren said at a campaign rally on Monday. And just as his comments have been reclaimed as feminist rallying cries and T-shirt designs, Trump's campaign itself has served as an unintentional signal boost for the hundreds of Democratic women running for federal, state, and local office, Politico reports.
Stephanie Murphy, who's running for a House seat in Florida, said women voters bring up Trump's behavior — in particular his comments on Access Hollywood — on the campaign trail. "This isn't the first time they've been treated inappropriately by a man or have heard inappropriate things said," she pointed out. And if the polls are any guide, they don't like what they're hearing.
"Before the outrage at Trump boiled over, these female candidates all said, they'd been having trouble getting their arguments to stick against their Republican opponents' records on women's issues," Politico's Edward-Isaac Dovere wrote. "Now they and many others around the country are arguing that Trump embodies everything they say the Republican Party gets wrong with women."

Meanwhile the communications director for the Democratic Legislative Campaign Committee — the Washington-based group that keeps track of state legislative races — said the record number of women running for office is thanks to Trump, too.
"The presence of Donald Trump at the top of the ticket encouraged many to step forward," she said, referring to the more than 1,700 women running for state legislatures, more than 90 of whom are 35 and younger. "And Donald Trump's horrifying rhetoric and history toward women reminds all of us why electing women to positions of power is so important."
Of course, a lot of the work was premeditated; before she announced her run for president, Hillary Clinton reportedly met with EMILY's List with the goal of convincing as many women to run alongside her as possible. But as EMILY's List president Stephanie Schriock put it, "Man — we never thought it was going to look quite like this."