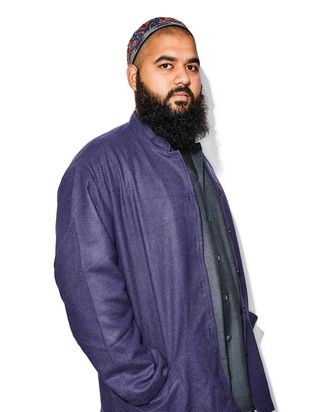 "A dog or a cat is not going to say 'Thank you' afterward, but you know you've done good by it."
Photo: Bobby Doherty/New York Magazine
Ali Siddiqi, Veterinarian
What's election talk like around the veterinary hospital?
Well, I know I'm not voting for Trump. People who harbored racist sentiments or xenophobia have become much more comfortable with expressing that in a public forum. When I started my job about a year ago, my boss said people were asking her, "How is the new terrorist doctor doing?" I can't say for sure if I'm going to vote for Hillary, though. She definitely has the experience, but I don't agree with her support of the military state in Israel.
How did you get into veterinary medicine?
I liked the idea of being able to help something that couldn't really ask for help. A dog or a cat is not going to say "Thank you" afterward, but you know you've done good by it.
What's the weirdest animal you've ever treated?
I once had to deal with an abscess on a rat. In veterinary school, I got to operate on a camel. I don't deal with snakes. If someone comes in with a snake, I'll refer them to a specialist — I'll tell them to slither along.
Lightning Round
Age: 28.
Lives in: Sidney Center, N.Y.
Currently reading: Small Animal Anesthesia and Analgesia.
Favorite TV show: Peaky Blinders.
Go-to news source: The BBC.
Pets: None. "I have enough animals around me during the day."
Advice to pet owners: "Vaccinate them, and don't rely on Google for medical information."
*This article appears in the October 31, 2016, issue of New York Magazine.