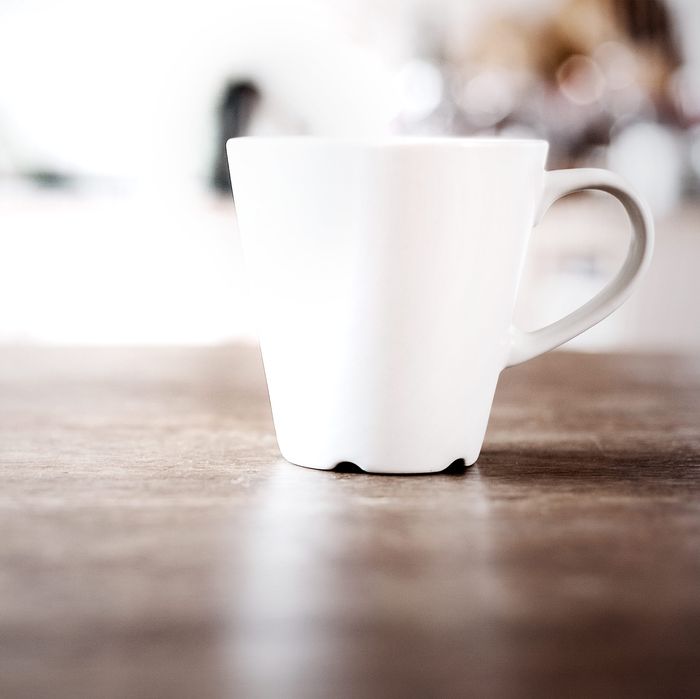 Get Sex Diaries delivered every week.
New York's Sex Diaries series asks anonymous city dwellers to record a week in their sex lives — with comic, tragic, often sexy, and always revealing results. This week, a 32-year-old works-from-home mom skipping the vibrator in hopes of husbandly oral: married, straight, lives in Riverdale.

DAY ONE
7:07 p.m. Just got home after a longer-than-expected drive from a little family vacation. Walked in to find our house hotter than the wrath of hell and reeking of Friday's trash. Nothing says welcome back to reality more than two sweaty, grumpy children, several suitcases full of dirty laundry, and a refrigerator offering no options for a quick/easy dinner. As I am not the chef in the family (I once set fire to spaghetti), my exhausted husband, Jack — a creative director in advertising — has been sent out for necessary provisions: dinner supplies and condoms (apparently, we've run out of those as well). After a long weekend in a shared hotel room, I seriously need to get fucked.
9:31 p.m. The kids, who are 7 and 9, are finally asleep. A 24-count package of condoms was purchased — Jack and I practice all methods of safe sex … except abstinence. We got married in 2004 (we were both 19; I was a month away from 20).
DAY TWO
7:50 a.m. Kids are off to school with much griping and complaining this morning. Not that I can blame them. The 7 a.m. alarm was equally painful to me. Getting back to normal life is always an adjustment. Starting a load of laundry as I down my morning coffee and take inventory of what needs to be done today.
2:51 p.m. Kids are home from school and complaining about impending homework time as I scramble to put away my fourth load of laundry. It's hard to feel sexy or imagine anybody wanting you like this. At least now that the kids are older, I don't smell like spit-up or formula anymore.

Since I was young when I had kids, the last thing I wanted was to look like a "mother." I still worry about that from time to time. I gained a lot of weight with my first, and was super self-conscious about getting naked until I finished shedding those pounds. Now, people are constantly surprised to learn that I've had kids at all, let alone two, but I still find myself fixating on my imperfections sometimes (the stretch marks, the desire for Victoria's Secret abs, the fear my girl bits just aren't what they used to be). Jack is amazing about making me feel like the most sexy and desirable woman, even when I don't feel up to par.
10:35 p.m. One kid still wide awake upstairs as Jack and I have a stupid (non) fight downstairs. One thing we've been pretty good at our whole marriage is not letting our disagreements escalate. We don't yell, and we're not purposefully cruel to each other. While that doesn't make fights suck any less, I do think it keeps us on pretty good terms, even when the times are tough. We made the decision early on, when things got rocky, that we wanted to make this work no matter what. We've had our share of fights, times when I just cried and wondered how we'd make it through, but we did. We do. And I know this is no exception.
11:05 p.m. "Makeup" sex might be better than just "sexually frustrated" sex. There's something more animalistic about makeup sex. He's started slapping my ass too, just so it stings a bit, and I really love that. I guess I'll forgive him for the fight. Or myself. I can't even remember who started it …
DAY THREE
11:15 a.m. Done with my morning errands and so happy to have my large coffee next to me as I dive into my work emails, which are backed up after the long weekend. Customer support can be tedious, but easy enough. And a little bit extra in the bank is nothing to sneer at. I like knowing I can contribute more than just my cleaning skills to the family.
2:52 p.m. Kids are home from school and thankfully in a better mood than yesterday. Trying to finish up with work emails while I change sheets on all the beds and pack away the winter bedding. Working from home definitely has its perks: catching up on my DVR during lunch, keeping up with the laundry, and following my own schedule. But it's also challenging: I never really feel like my workday ends (except when Jack gets home and demands I stop for the day). There's always something else I feel like I should be doing. And I'm constantly annoyed with myself for not being able to do everything all the time.
9:35 p.m. Favorite time of night! Just finished another amazing meal by Jack (I tell him all the time I love him for his two F's: food and fucking), kids are in bed, and we're snuggling up with some wine and an Ingmar Bergman movie. This is basically our nightly routine, except we fluctuate between foreign, subtitled movies and binge-watching old TV shows like The X-Files or Twin Peaks. Welcome to the very exciting world of being parents! Will I be able to stay awake past 10:30? That's always the game: seeing if I can stay awake long enough to have sex. Forget about spontaneity — just find opportunity.
10:45 p.m. Nope. Definitely passed out on top of Jack before the movie was over.
DAY FOUR
6:25 a.m. Wide awake before the alarm, but with time for a long shower. As much as I love sleeping in, it is kind of nice to be ready for the day before anyone else is even awake. I'm toying with the idea of getting Jack up with some morning sex, but I know the kids would wake up before we could finish. They have a way of sensing it.
9:47 a.m. Awesome therapy session this morning. I don't know how I managed to keep my sanity all these years without it. I've only been going for a few months, but the difference is incredible. As someone who deals with anxiety, just having someone tell me I'm not crazy is therapeutic. I'm learning to validate my own feelings and be more honest about my thoughts with Jack. Not as easy as it sounds.
12:49 p.m. Love coming home to a clean house! Today's the day my cleaning service comes; there's just nothing like walking in and having a pristine kitchen. I stocked up on some white wine, and am massively looking forward to taco night! Really, the way to my heart is through food. The amount of time I spend daily thinking about food and sex … I could be a man.

Toying with the idea of making use of the Christmas present Jack got me a few years ago — the most amazing vibrator ever, the JimmyJane Form 2. The number of settings, for both speed and pattern, is mind-blowing. I have a few other vibrators, but this is my go-to. Jack's work entails him traveling a few weeks out of the year, so he prefaced this gift by telling me it was something to keep me company when he's away. He's all for me using it as often as I want (he appreciates the dirty details), but I have this weird superstition that dictates that if I masturbate, I won't get head that night. It seems to be true four out of five times. I think I'll practice some self-control and just wait — the real deal is better than the simulated.
7:45 p.m. Jack came home pretty exhausted tonight, which obviously throws a wrench in my seduction plans. I'm kind of wishing I'd gone with the vibrator plan. It's not as easy to sneak away and use it when everyone's at home. At least there will be tacos for dinner. If you could taste Jack's cooking, you'd know how almost orgasmic it can be. It's no substitute for other types of oral pleasures, but I'll take it.
11:30 p.m. GAH, why do I keep falling asleep on the fucking sofa? Is 32 really that old? It's so aggravating! Especially when nighttime is really the only window during the week for Jack and I to have sex. That's a serious insight into adulting and parenting: all the desire and drive, with none of the time or energy. Damn you, exhaustion and responsibilities!
DAY FIVE
7:31 a.m. Thank god for coffee. Rushing out early to a school event, and I need as much caffeine as possible to make it through today. It's hard to say if this is the life I imagined for myself. I think I always thought I would be married with kids, but I didn't know quite what that would entail. Perhaps I imagined it being less work. I would say it's been harder than I thought it would be, but way more rewarding and satisfying than I imagined. It's what I would tell my younger self life should be.
8:35 a.m. Went with the black-lace panties this morning to inspire some sexy times later this evening. Should probably go with a second cup of coffee as well. I'm realizing how often sex influences my daily choices: when to shower, what bra/underwear to put on, do I need to shave? I wonder what Jack would think if he knew how often I think about fucking him. How sometimes I just wish he'd surprise me at home in the middle of the day so we could spend an afternoon together alone. Trying to ignore the call of the JimmyJane in the drawer next to me. I refuse to give in.
4:26 p.m. Friday means I can have a glass of wine before 5 p.m., according to my own rule. And it's needed this afternoon. Kids are a bit crazy and I'm a bit fed-up. There are days when I have the patience of Job and then there are days, like today, when it's all I can do to keep calm and not banish them to their rooms for the remainder of their lives.
4:45 p.m. The amazing Jack has offered to read to the kids downstairs so I can get some much-needed work done. He seriously has the best reading voice, and I wouldn't mind curling up and listening to him, but I really should focus. He's such a good dad.
6:15 p.m. Just left the kids with their frozen pizza and TV to sneak away for a quickie, and holy hell. I can barely feel my legs. I'm a lucky woman: Jack knows what I like and doesn't mind doing it. I never have to ask him to go down on me. It's almost like a game to him, to see how many orgasms he can give me. I just imagine +100, +200, BONUS!, BONUS! shooting out the top of my head as I come over and over again. Maybe this should be our new routine. Sex is so much more enjoyable when I'm not half-comatose.
8:20 p.m. Still buzzing after our little tryst upstairs. Jack laughs at me when I shoot him a completely sated smile. He says he's tamed the dragon. It is funny sometimes to think about how I've known him since we were kids growing up together. We've been friends for half of our lives, and married for a third of our lives.
10:19 p.m. Just finished catching up on the X-Files episode that I passed out on last night. As someone who didn't watch the show when it originally aired, I am totally hooked. But now I have to be a nice wife, apparently, and let Jack watch soccer instead of continuing my Netflix binge. Pretty sure that's the ultimate self-sacrifice in this day and age.
DAY SIX
9:57 a.m. Finally settling in for a cup of coffee and some breakfast after running around this morning for soccer practice.
2:43 p.m. Between house cleaning, organizing my home office, early-morning soccer practice, and our weekly grocery shopping, I'm beyond ready for a nap. Unfortunately, we still have a soccer game this afternoon. Sometimes I try and remember what it was like before kids, when Jack and I would make love in the afternoon, nap into the early evening, and only reemerge when we needed food. I wouldn't trade what I have for the world, but I wouldn't mind traveling back in time for one of those lazy, sexy weekends.
11:15 p.m. Managed to stay awake for another two episodes of X-Files and a delicious cocktail. However, once again, Jack has hijacked the TV for more sports. He's promised to reward me for letting him watch the game … guess that's worth the trade-off. Not sure I can stay awake much longer, but I can always remind him of his debt tomorrow.
DAY SEVEN
11:45 a.m. Very relieved to have today's soccer game canceled because of rain. As much as I love my kids and want to be there for every moment, standing/sitting in the rain to watch a bunch of kids run around the field is really not how I'd like to spend the last day of the weekend. My big plans now include snuggling up on the sofa with my book and a large cup of tea.
5:22 p.m. First (of many) glass of wine for the night. Trying to tune out the sound of kids fighting after spending the afternoon helping finish weekend homework.
9:56 p.m. Yes, that was definitely what the doctor ordered! Apparently, having some afternoon caffeine is the trick to not passing out as soon as I sit down for the night. I'm pretty happy that we've hit four times this week — but who's counting? Somewhere between after-family-vacation sex, makeup sex, and the much-needed quickie, there is just loving, passionate sex. Honestly, some of my best sexual memories of Jack are just the ones where I felt so connected and so present in the moment. Where there was no emotional baggage, no to-do list waiting — just me and him. Realizing it's for him. It's for us. And it's for the two little people our love has brought into the world. It gives me all the motivation I need to continue doing all that I do day in and day out. Now, let's see if we can break our own record next week …
Get Sex Diaries delivered every week.
Want to submit a sex diary? Email sexdiaries@nymag.com and tell us a little about yourself.