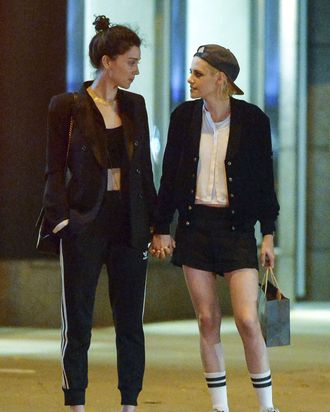 St. Vincent (left) and Kristen Stewart (right).
Photo: Teach/Moryc Welt/FAMEFLYNET
It was just last week that the sun shined down even brighter upon us as we learned that ultimate cool girls Kristen Stewart and St. Vincent were rumored to be dating. And now, we finally have photographic confirmation of their relationship.
The Daily Mail caught the 26-year-old actress and 34-year-old indie-rock goddess on a date in the East Village on Sunday night. The two were seen holding hands while they walked down the street. They also sat outside as they ate dinner, and shared a kiss across the table.
Ah, love. So glad these two won't have to go through cuffing season alone.