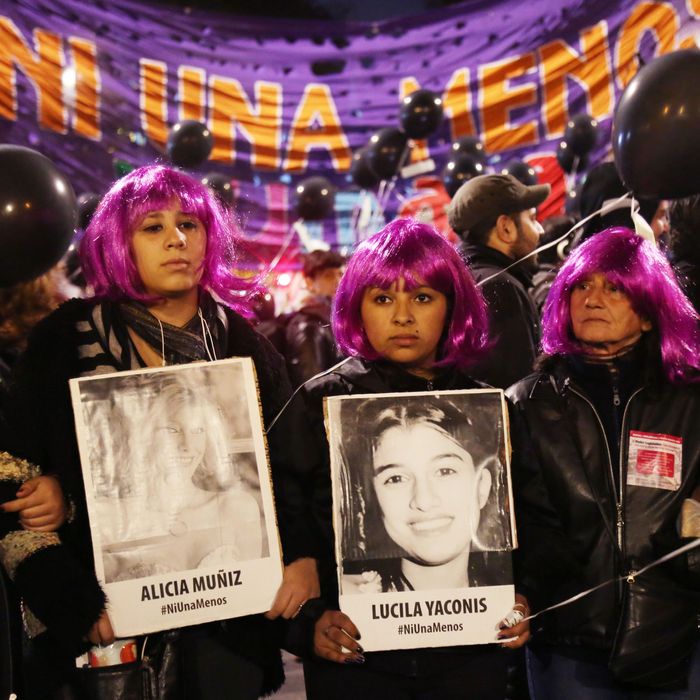 Women protesting violence against women in Buenos Aires in June.
Photo: Anadolu Agency/Getty Images
Women across Argentina are set to take to the streets on Wednesday to protest violence against women following the rape, torture, and murder of a 16-year-old girl, The Guardian reports.
The so-called "women's strike" — also known as Black Wednesday — is expected to draw hundreds of thousands of women in Argentina who will drop everything for an hour at 1 p.m UTC. "In your office, school, hospital, law court, newsroom, shop, factory, or wherever you are working, stop for an hour to demand 'no more machista violence,'" the strike's organizers wrote.
The strike was organized after Lucía Pérez was drugged, raped, and tortured earlier in October in Mar del Plata, Argentina. Prosecutor María Isabel Sánchez said, "I know it's not very professional to say this, but I'm a mother and a woman, and though I've seen thousands of cases in my career, I've never seen anything like this." Three people have already been arrested in the case, and Pérez's family has been receiving death threats.
Crimes against women in Argentina have increased 78 percent since 2008, according to government statistics. The attack against Pérez was just one of the latest instances of "femicide" in the country. Women in Buenos Aires held a similar protest against femicide in June, and tens of thousands of women participated in a similar march in Rosario just days ago.