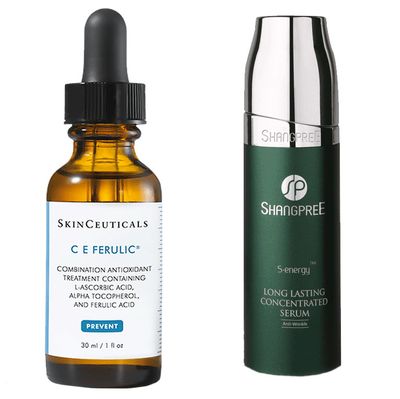 Being a beauty editor means I get to be a little flighty or promiscuous with my beauty products. I can try a few drops of one serum tonight, double-book another two tomorrow, decide I'm no longer interested in any of them and look for something new — and no one gets hurt. But it also means that I rarely commit to one particular thing. That's where our new column Empties comes in. Inspired by Eva Chen (who coined the term and the idea on her own Instagram account) we'll be endorsing products that we finished and loved to the very, very end of the bottle. First up, skin care.
Since I obsessively detailed my morning routine, a few things have changed: Most notably, I finished the serum that was giving me morning life. I was more excited to put on Skinceuticals CE Ferulic than I was to drink caffeine. Now I've literally used this product to the last hickory-bacon-smelling drop. I've shaken it, tossed aside the dropper, and even risked creating a Chinese finger trap by sticking my pinky finger into the bottle to make sure there really wasn't any left. There isn't. Good-bye, instantly more taut skin. Good-bye, serum that layered perfectly under all makeup. Good-bye, antioxidant protection. Good-bye to all that — until I get my hands on another bottle.
No matter how many fancy under-eye creams I use, my under-eye wrinkles (which could be generously called "smile lines") remain dependably intact. But this eye cream from Tatcha helps a little. The product is dispensed via a ceramic tip that's cool, so it gently de-puffs blotchy areas while leaving the skin feeling silky and firm. The formula is a fluid rich in hydrating algae and rice bran that's moisturizing without being so creamy that it turns my pricey under-eye concealer into eye boogers later in the day. It's not quite rich enough for nighttime for a Stage-Three Under-Eye-Circle Sufferer like myself, but it was a solid staple for several months in my beauty routine.
Shangpree is one of the most legendary facial emporiums in Korea. My friend Alicia Yoon of Peach and Lily first told me about it and explained that the spa's aestheticians are required to undergo a minimum of three years' training before they can put their hands on a client. I have yet to visit, but Yoon introduced me the next best thing: their serum, which took two years to develop and is a mainstay in her own beauty routine. Unlike some serums, which feel heavy, this one has a light liquid-silk texture. And despite its airy formula, it's packed full of antioxidants to minimize free-radical damage, a cellular process that causes aging. The serum also contains a mix of hydrating ingredients, including actual oxygen, hydrolized silk, and propolis. Prior to putting it on, my face feels like a sad, deflated, droopy balloon. Afterward, it looks more radiant and glowy, even before I put on highlighter. Once I saw how great this serum worked on my face, I began using it on my neck. I didn't feel bad about my neck once in the several months that this bottle lasted.