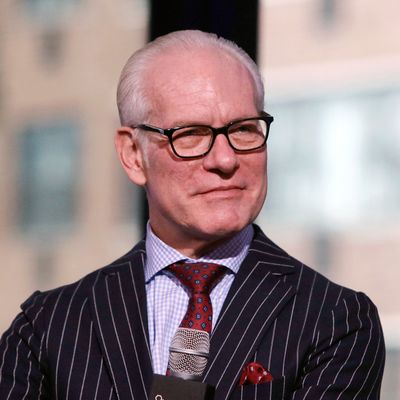 Photo: Jim Spellman/WireImage
Project Runway style guru Tim Gunn appeared on PBS NewsHour to talk about how and why clothing designers need to step up to the plate when it comes to designing for different body types. Gunn, who wrote an op-ed in September during Fashion Week about the same topic, had strong words for an industry he loves but which he feels does a disservice to the average American woman.
"Would it surprise you to know that the average American woman now wears between a size 16 and a size 18? She is what the industry calls a plus-size woman, a term that I would like to erase," he said. (He's not the only one who would like to get rid of the "plus" in plus size, either.)
Gunn went on to explain how and why it's more than an issue of sizing up designs and how retailers can help force the issue.
"Right now, most plus-size designs make the body look larger, with box pleats and shoulder pads. Trust that I'm not trivializing the task. It's challenging. Designs need to be re-conceived, not just sized up."
And:
"The retailers have plenty of leverage, as in: Marc Jacobs, if you want to continue to own the current space that you have in our store, then we also need clothing for our larger market; 14-plus is now the shape of women in this nation, and designers need to wrap their creative minds around that."
Gunn pointed out Leslie Jones's red-carpet predicament, which was solved (and solved fabulously) by Christian Siriano, who's also outfitted Christina Hendricks, Michelle Obama, Laverne Cox, and Lady Gaga.
"I profoundly believe that women of every size can look great. And in this time of inclusiveness, why should 80 million women be marginalized?" Gunn said, before closing with his famous catchphrase. "Designers, make it work."