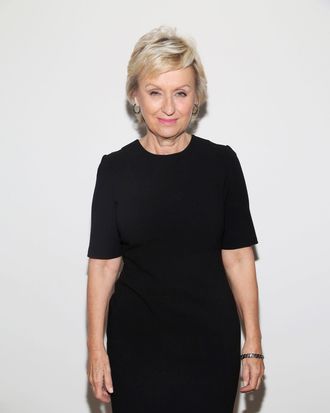 Tina Brown.
Photo: Sylvain Gaboury/PMC
Last night, Tina Brown hosted a crowd of fashion notables and New York society types at an intimate event to raise awareness for the Women's Brain Health Initiative at Spring Studios. The former Vanity Fair, New Yorker, and Daily Beast editor also moderated a panel featuring Naomi Campbell, Candace Bushnell, Lauren Hutton, Mamie Gummer, and Dr. Samantha Boardman, who shared personal experiences and female-focused advice about neurological and overall health — timely, considering the presidential election is taking a massive toll on collective female brain health right now.
As the nation girds our loins for a third and final debate tonight, the burning question remains: Will the candidates finally broach women's issues? "They haven't discussed any women's issues so far," Brown told us before the panel. "I mean, there's an obsession on the Republican side with interfering with women's bodies and wanting to dictate how they live and their own choices. There's been a kind of avoidance of talking seriously about issues like sexual assault because it's all become part of the Donald Trump pandemonium."
Although discourse surrounding Trump's alleged sexual offenses has been rampant everywhere outside the debate venues (via his own hot-mic admission and proliferating accusations from women in his past), part of the discussion encourages people to not believe women who are brave enough to speak out.
"I know. It's this endless discrediting of everybody," Brown said. "Everyone is discrediting, discrediting, discrediting. To the point where we're left with what? It has been wearying. I think everyone is dying to see it over now."
Ironically, in an election that should be empowering for women — after all, a woman is running for the first time — the country's sentiments and attitudes seem to be going in the opposite direction.
"It's been a really toxic backlash," Brown said. "I fear a backlash, rather than a moving forward. You've seen more racism with Obama. Everybody thought it was going to be the post-racial presidency and it has been anything but. And I fear the same thing will happen to Hillary — that we're going to see renewed misogyny in every direction."
"Nonetheless by winning, [Clinton] does break down the barrier," the CEO of Tina Brown Live Media continued. "We've just seen the second woman [Theresa May] make prime minister in London. There's no doubt when it happens the second time, it's just the way it can be. And she may be a good or bad prime minister, but that's fine. That's normal. So it seems to be, unnecessarily, a crucifixion of a run. You know, it really has. Who would have believed the run. Some people say, 'Oh it's been great for Hillary that she ended up with Trump.' I don't think it's been great for Hillary to have Donald Trump. I think she finds it very painful to have to be running in this atmosphere."
The election really has not only unleashed — or exposed, rather — misogynist sentiment in the U.S., but also nativism, populism, and racism, to name a few. "You do wonder if you can ever close that Pandora's Box ever again," Brown said. "The stuff that's come pouring out has been very spooky and then the box opened and all of these black spiders came out, so getting them back in there is going to be hard."
As for what's next come November 9, well, that's a big question. "I think everybody is concerned about that," she said. "A big pile of flaming rubble at the end, you know?"