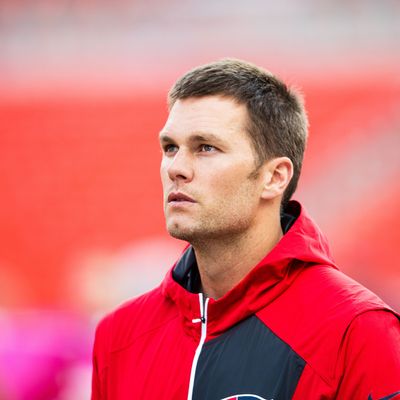 Some people have been saying Tom Brady will vote for Donald Trump.
Photo: Jason Miller/Getty Images
Tom Brady, who is best known for his hatred of strawberries, is slightly less better known for being "great friends" with Donald Trump. Until today, the New England Patriots quarterback had declined to speak about his friendship with the Republican nominee, but he broke his silence in an interview on WEEI's "Kirk & Callahan" radio show on Monday.
"I met him probably 15, 16 years ago," Brady said of Trump. "We've played golf together many, many times, and I've always had a good time with him. He's been a friend of mine. He's supported our team. He's supported the Patriots. He's been on the Patriots sideline a lot. He's always called me after games to encourage me over the course of 15 years. That's kind of the way it is."
And although he didn't mention anything about Trump's recent allusion to "locker-room talk," Brady reassured listeners that he is going to vote.
"Yeah, I'll vote," he told the radio hosts. "Maybe we'll talk about it after Super Tuesday, or whatever it is."