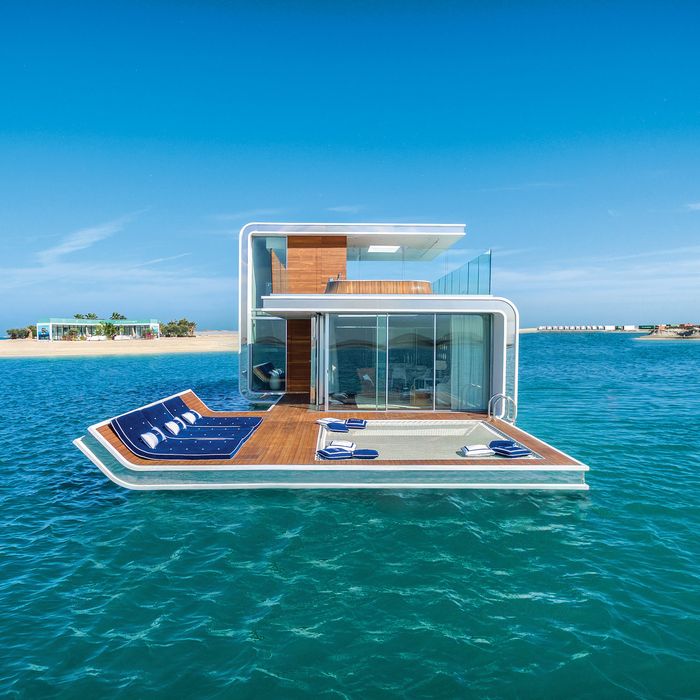 Yes, this is a real photograph.
Photo: Courtesy of Kleindienst
I've had this idea for a long time: to be able to go into the ocean without getting wet," says Josef Kleindienst, CEO of the Kleindienst Group, the biggest European real-estate and property developer in Dubai. "I actually don't like snorkeling or diving because, to be honest, I am afraid of the ocean, but I was always curious about what other people were seeing underwater." Kleindienst's curiosity led him to conceive of the Floating Seahorse Villas, what will ultimately be 130 luxury-houseboatlike structures, most of them connected via jetties to the St. Petersburg resort island, off the coast of Dubai. (The St. Petersburg is actually part of the master plan for a megaresort, the Heart of Europe, consisting of six islands in the shape of a world map.) What differentiates these from other handsome modernist houseboats is that below deck is an underwater level containing the master bedroom and a full bathroom with a freestanding tub, both of which have floor-to-ceiling windows with views of passing fish.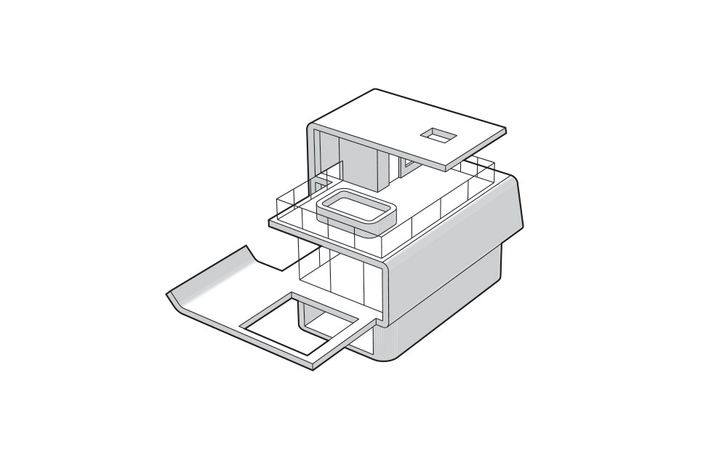 These properties, when they're completed by the end of 2017, will cost at least $2,700 a night; for now, there is a model villa floating in the Arabian Gulf. The sea is, of course, surrounded by desert sands, which can make the water murky in strong currents or winds. "Sometimes the visibility from the bedroom is only one meter," Kleindienst says. To counteract that, and to attract marine life, there is a program in place to build artificial reefs and attach real coral to all structures. "We expect the visibility to go up to ten meters." And when the project is finished, Kleindienst says, "we will have around 5 million square feet of coral to attract a lot of sea life — as well as tourists to come for diving and snorkeling." Those mildly wary of sleeping underwater can rest assured: "The shark is outside the window," Kleindienst says, "and the window is strong enough to keep him outside."
*This article appears in the October 17, 2016, issue of New York Magazine.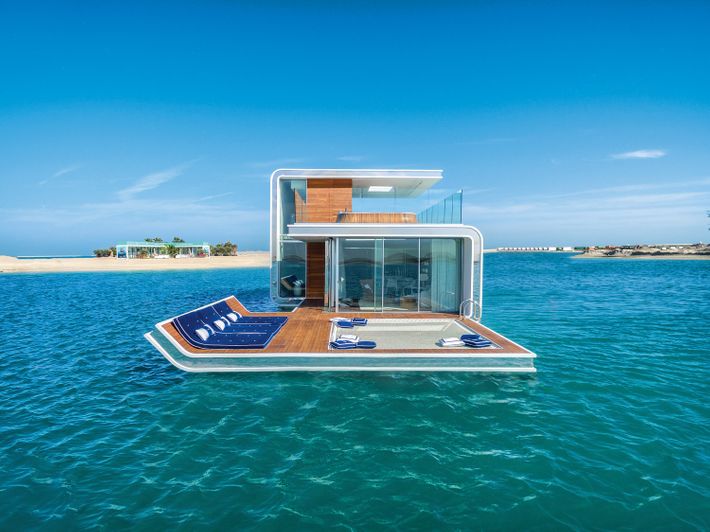 The Model Houseboat
It's moored to an underwater pile that isn't visible from the villa. (And yes, this is a real photograph.)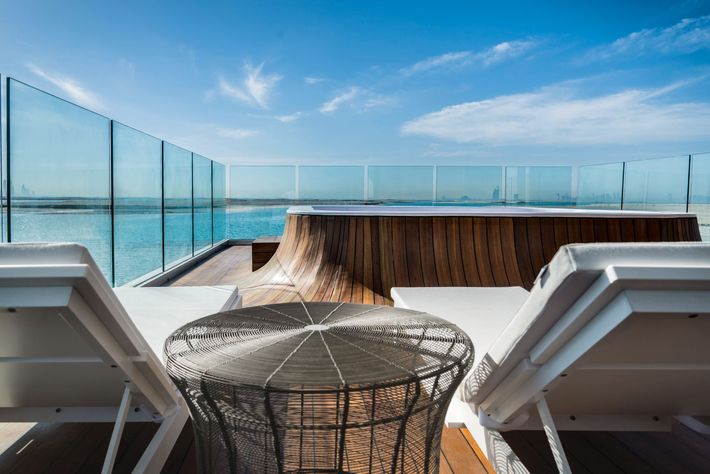 The Upper Deck
In addition to a double bed that can be isolated with sheer curtains, there's an outdoor shower, a mini-bar, and a glass-bottomed Jacuzzi that functions as a skylight for the living room below.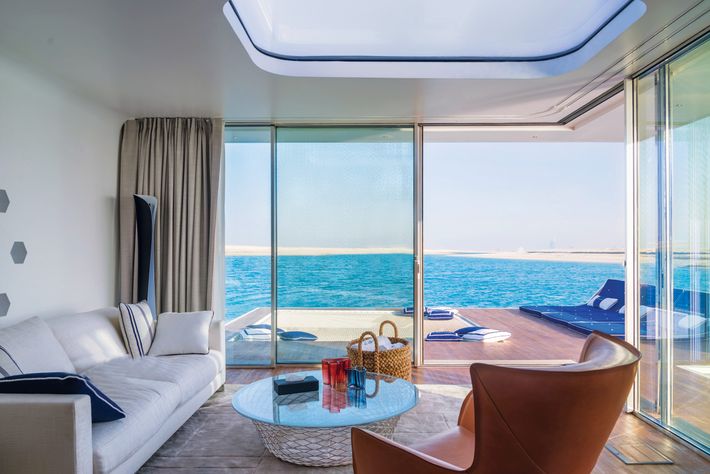 The Sea Level
This floor has an open plan with a living room, dining area, and fully fitted kitchen and bathroom. There's a platform off that for sunbathing, along with a ladder for easy access to the sea.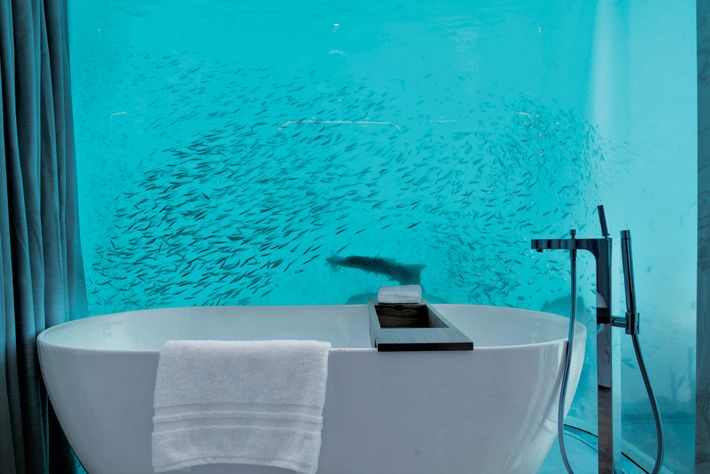 The Underwater Level
Houses the master bedroom, as well as a full bathroom with a freestanding tub.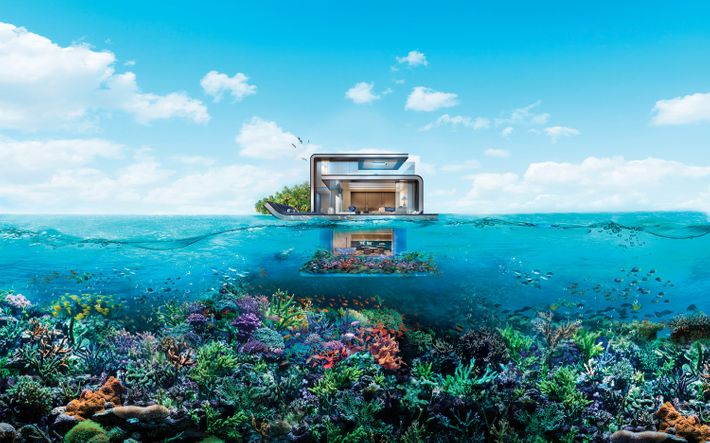 The Underwater Townhouse
The image is a rendering of one of the 130 villas that will soon be bobbing in the Arabian Gulf. It's connected to a Dubai island, and features fully submerged bedrooms.