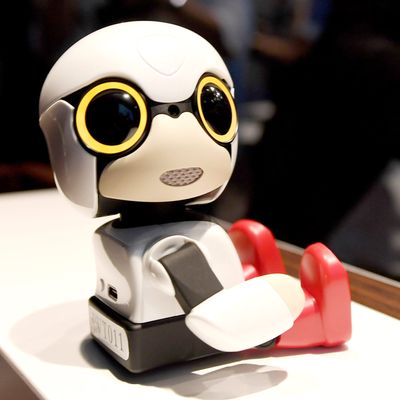 Photo: TOSHIFUMI KITAMURA/AFP/Getty Images
Japan has one of the lowest birthrates in the world, which has long been a source of national concern. Unfortunately, a new invention from Toyota probably isn't going to help: baby robots. On Monday, Toyota unveiled the Kirobo Mini, a tiny robot Reuters describes as a "synthetic baby companion."

Kirobo Mini — which speaks in a high-pitched voice and comes with a small cradle — will retail for $392 starting next year. One integral part of the robot's design involved making him seem babylike enough to rouse maternal feelings in the user.

"He wobbles a bit, and this is meant to emulate a seated baby, which hasn't fully developed the skills to balance itself. This vulnerability is meant to invoke an emotional connection," chief design engineer Fuminori Kataoka explained.
The robot is not explicitly created for childless individuals, with the company hoping it can serve as a companion for all. If the world's first robot with feelings — which sold out in under a minute — is any indicator, the Kirobo Baby will do just fine.