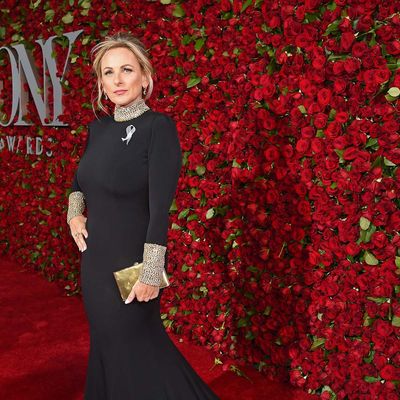 Marlee Matlin was a contestant on Celebrity Apprentice.
Photo: Larry Busacca/Getty Images
A new report by the Daily Beast cites three former staff members from Celebrity Apprentice who allege that Donald Trump called actress Marlee Matlin, who is deaf, "retarded." Matlin was a popular contestant on the show at the time and Trump was previously accused — on Wednesday — of making sexual comments to Matlin. The former staffers told the Daily Beast, though, that Trump would regularly make comments about Matlin's mental capacity behind her back or, at times, even in her presence.
"[Trump] would often equate that she was mentally retarded," one source told the publication. (Owing to stringent non-disclosure agreements, the three sources in the story are anonymous.) Trump has previously come under fire for other insensitive comments regarding individuals who are disabled, like when he mocked Serge Kovaleski, a New York Times reporter who has a physical disability.
Matlin is the first and only deaf actress to win an Oscar, for her role in the 1986 film Children of a Lesser God. Staffers told the Daily Beast that she was popular on the show, but Trump nonetheless often treated her "special." Matlin, however, didn't let his treatment of her slide on at least one occasion. She stood her ground once when Trump made an "insensitive" remark in her presence during a boardroom meeting. Her comments didn't make it on air, though.