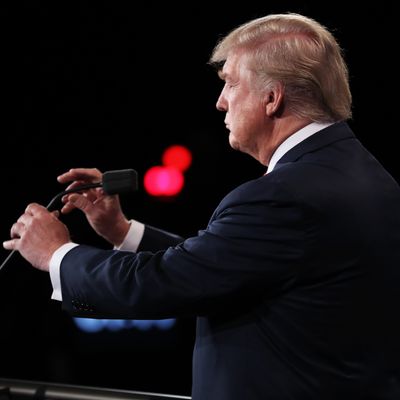 Donald Trump has issues with microphones.
Photo: Joe Raedle/Getty Images
Donald Trump's relationship with microphones is a fraught one. At key moments, sometimes they work in his favor. But usually, according to Trump, they do not. They certainly didn't when Trump visited the set of Days of Our Lives in 2005, and a hot mike recorded him telling Billy Bush that, "When you're a star … you can do anything. Grab [women] by the pussy. You can do anything."
Trump's comments have driven many female religious leaders to speak out against him, so during an interview with global Catholic network EWTN, Trump was asked about his remarks. He responded by blaming the microphone.
"The microphones, I mean to be honest should, you know, should never have been on," he said. "But that was locker-room talk."
If the mike hadn't been on, Trump's misogynistic comments might never have crossed the line into describing sexual assault. Anderson Cooper might never have asked Trump if he'd done the things he'd described, Trump never would've denied it, and more than ten women might never have come forward to prove him wrong. But, of course, it was.