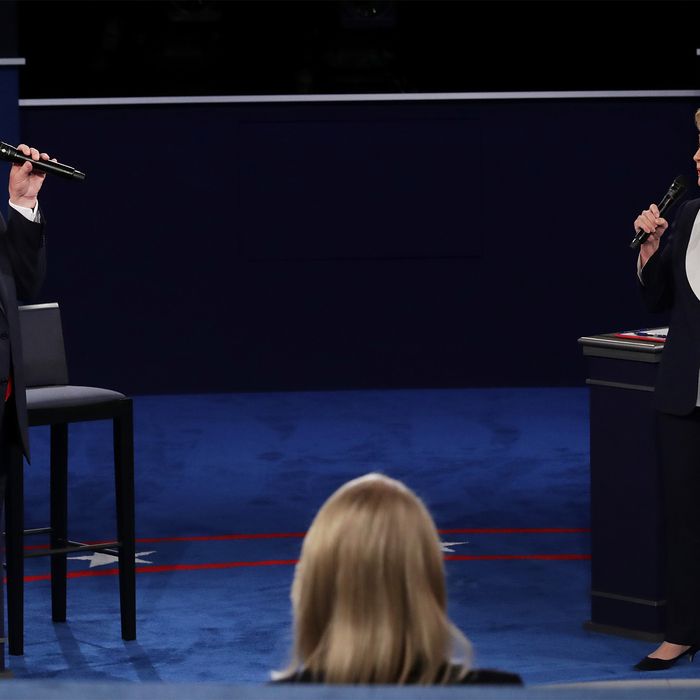 Donald Trump and Hillary Clinton didn't hold back during Sunday's town hall debate.
Photo: Chip Somodevilla/Getty Images
On Sunday night, voters got to hear Donald Trump and Hillary Clinton speak for roughly the same amount of time. Yet there was one key difference: When it came to the number of interruptions, Trump's tally towered over that of Clinton's for the night.
The town-hall debate was 90 minutes long and each presidential candidate's airtime was almost exactly equal, with Trump speaking a minute more than Clinton, according to CNN. There were plenty of interruptions throughout the night as well, including from the moderators, who repeatedly pressed for more details with follow-up questions for Trump and Clinton. Trump, according to Vox, interrupted Clinton 18 times throughout the night. It's a number that pales in comparison to the rate he interrupted Clinton during the first presidential debate, though. Anderson Cooper, who moderated along with Martha Raddatz, was the only other person during the town hall who also had almost 20 interruptions (18 of his 33 were for Trump).

For her part, Clinton played by a strategy that involved letting Trump speak and relying on the moderators to fact-check. That led to her having only one interruption of Trump throughout the night. That interruption, as noted by Vox, came during Trump's false assertion that Clinton was responsible for Bashar al-Assad's use of chemical weapons in Syria (she was not in office at the time).
Clinton's singular interruption for the night also included an apology: "I hate to interrupt you but at some point we needed to do some fact-checking."