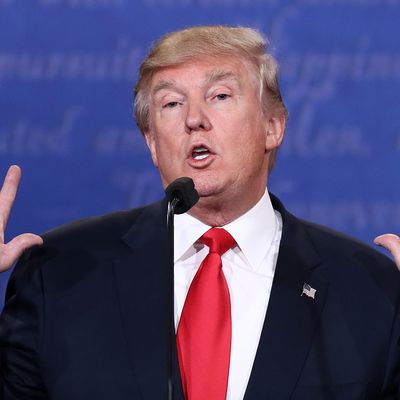 Donald Trump's words inspired some, but probably not in the way he intended.
Photo: Win McNamee/Getty Images
That certainly didn't take long. There is now a white-and-pink "Nasty Woman" T-shirt available for purchase, with 50 percent of funds going to Planned Parenthood. Donald Trump inspired the shirt, though he probably didn't intend to.
When Trump interrupted Hillary Clinton during the final presidential debate with the jarring remark "What a nasty woman," he set off a wave of reactions that rippled through social media. There were plenty of tweets admonishing him for the remark — after all, he said it almost immediately following another proclamation that was met with laughter from the audience: "Nobody has more respect for women that I do, nobody. Nobody has more." But the moment also provided another lighthearted opportunity to take a jab at the presidential candidate. Coupled with his "we have some bad hombres" remark about undocumented immigrants, "nasty woman" ended up being the icing on the cake.

You can buy the "Nasty Woman" shirt on Google Ghost for $25, or you can just donate all $25 directly to Planned Parenthood.