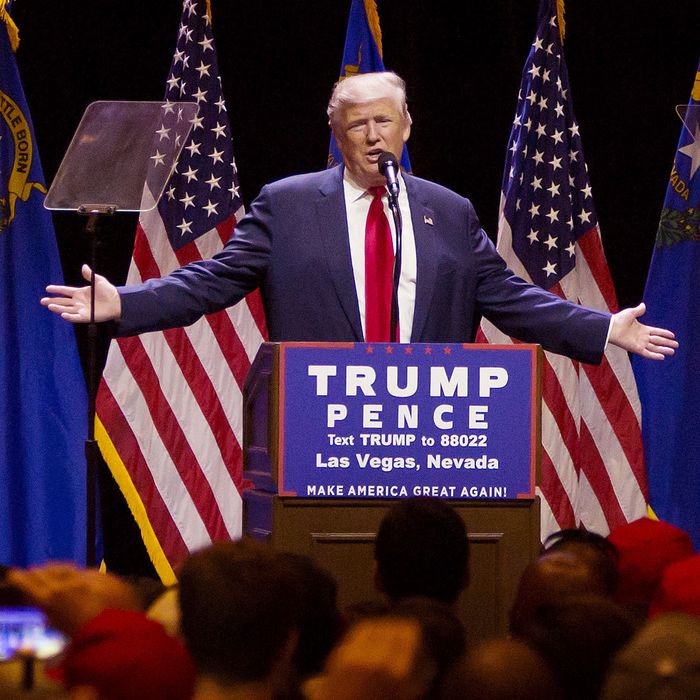 Donald Trump addresses supporters at a rally in Las Vegas.
Photo: Bloomberg/Getty Images
Before Donald Trump took the stage in Las Vegas on Sunday, conservative commentator Wayne Allyn Root warmed up the audience by imagining Hillary Clinton's imminent death. "It's Hillary in a White Ford Bronco," he said. "She's got Huma driving, and they're headed for the Mexican border … when they make the run for the border of Mexico, there's nowhere to go, because President Trump has built a big, beautiful wall."

He went on, "We all get our wish. The ending is like Thelma & Louise." (At the end of the famous 1991 movie, Thelma and Louise drive off a cliff to their fiery deaths.) According to Politico, Root's remarks "drew cheers from rally attendees."

This isn't the first time a Trump surrogate has called for his political opponent to be killed; in July, Trump delegate and New Hampshire state representative Al Baldasaro said in a radio interview that Clinton "should be put on the firing line and shot for treason."
Like many of Trump's surrogates, Root has a history of controversial remarks, the most recent being that Donald Trump is far too handsome to grope women.