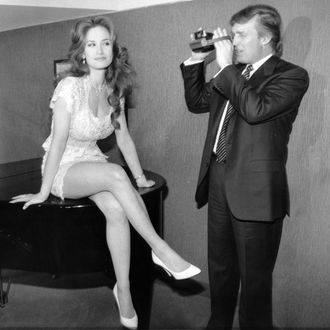 Donald Trump interviewing a Playboy centerfold in 1993.
Photo: New York Post Archives/The New York Post via Getty Images
Donald Trump has a history of harassing women, not only in his formative years as a rising real-estate mogul, but also as recently as last week, when he publicly fat-shamed a former Miss Universe winner and directed his Twitter following to Google her sex tape. It's almost exhausting to document every instance of misogyny in Trump's past, but in an editorial for Vanity Fair, editor Graydon Carter recalled his gross behavior during the 1993 White House Correspondents' Dinner.
It was Carter who invited Trump in '93 as a "novelty guest" of the magazine, he wrote. That evening, Vanity Fair's tables were full of "the likes of Christopher Hitchens, Bob Shrum, Barry Diller and Diane von Furstenberg, Peggy Noonan, Tipper Gore, and Vendela Kirsebom, a Swedish model who professionally went by her first name and who was then at or near the top of the catwalk heap."
"Thinking she would get a kick out of him," Carter seated Kirsebom next to Trump. Unsurprisingly, this turned out to be a mistake.
After 45 minutes she came over to my table, almost in tears, and pleaded with me to move her. It seems that Trump had spent his entire time with her assaying the "tits" and legs of the other female guests and asking how they measured up to those of other women, including his wife. "He is," she told me, in words that seemed familiar, "the most vulgar man I have ever met."
Carter spends the rest of the editorial more or less eviscerating Trump, and observes: "To think that next spring Trump could be attending the White House Correspondents' Association dinner as the commander in chief renders one almost speechless."