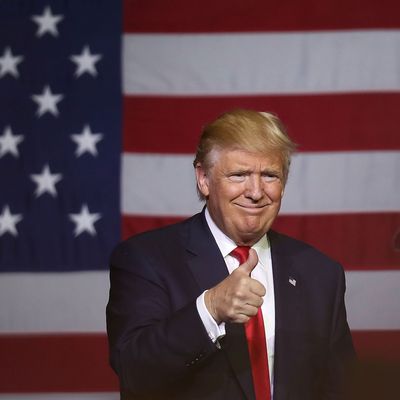 Trump has high standards for the women who accuse him of sexual assault.
Photo: Joe Raedle/Getty Images
Donald Trump has high standards for a woman's physical appearance, and judging by his comments at a rally in Palm Beach, Florida, on Thursday, apparently those standards extend to the women who have accused him of sexual assault. After at least six women alleged he touched or kissed them without consent, Trump refuted their claims by asking his audience to take a close look at his accusers.
"These vicious claims about me of inappropriate conduct with women are totally and absolutely false," he said. "They're pure fiction and they're outright lies. These events never ever happened, and the people that said them meekly fully understand. You take a look at these people, you study these people, and you'll understand also."
Then, he rhetorically asked the crowd why, if her story is true, it took People magazine's Natasha Stoynoff more than a decade to come forward.
"Take a look — you take a look, look at her, look at her words, you tell me what you think — I don't think so," he said. "I don't think so."