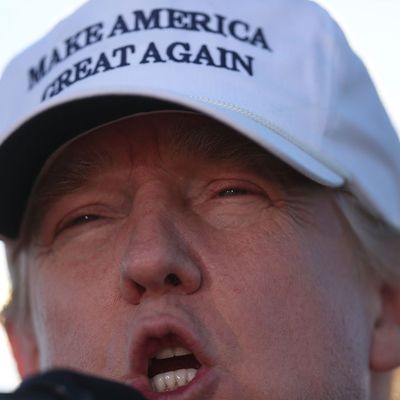 Stylish.
Photo: Joe Raedle/Getty Images
On Monday, Donald Trump claimed he's polling better with women than with men, and that reports to the contrary are "very inaccurate." In fact, a recent ABC News/Washington Post poll showed Clinton ahead with women voters by 20 points. When it comes to polling, Trump seems to be blissfully oblivious, and a new report from the Post makes it pretty clear why.
According to Federal Elections Commission filings, Trump's campaign has spent $1.8 million on polling from June 2015 to September 2016. By contrast, it has spent $3.2 million on "Make America Great Again" hats.
In total, his campaign spent $15.3 million on "collateral," which includes Trump hats, Trump T-shirts, Trump signs, and other merchandise to promote its candidate — that's more than it has spent on any other category, including field data and payroll. Here's what that looks like:
As the Posts's Philip Bump notes, "Nothing encapsulates Trump's primary and general election campaigns more neatly than his spending on collateral generally, and hats specifically — the campaign in a nutshell."