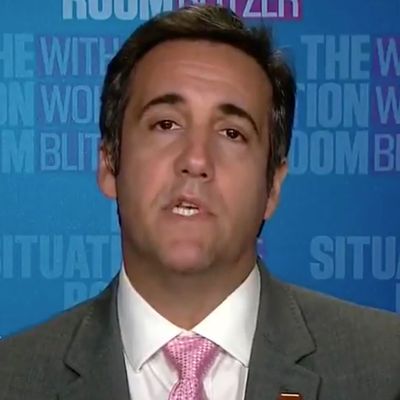 Donald Trump's attorney, Michael Cohen.
Donald Trump's attorney, Michael Cohen, has probably had better weeks. Beginning last Wednesday, more than ten women have come forward with allegations that Trump groped them or kissed them without their consent. And although no legal charges have been filed connected to any of the cases, Cohen nonetheless defended his client in an interview with CNN's Wolf Blitzer Tuesday.
In what appears to be a coordinated effort, Cohen told Blitzer that the women who've accused Trump aren't people Trump would choose to sexually assault. "Beauty is in the eye of beholder … these aren't even women he'd be attracted to," Cohen said. "I think what Mr. Trump is really trying to say is that they're not somebody that he would be attracted to, and therefore, the whole thing is nonsense."
Trump has used the same argument in his own defense; at a rally in Florida, he addressed claims by former People magazine reporter Natasha Stoynoff, who says Trump sexually assaulted her in 2005.
"Take a look — you take a look, look at her, look at her words, you tell me what you think — I don't think so," he said of Stoynoff. "I don't think so."