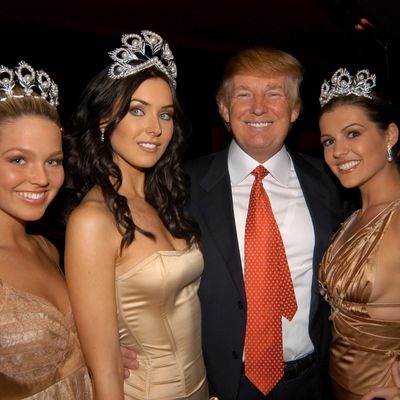 Trump with contestants in the Miss Teen Universe 2005 pageant.
Photo: Gabriela Maj/Patrick McMullan
Last Friday, the Washington Post published a video in which Donald Trump bragged about his affinity for serial sexual assault (or, more precisely, kissing women and grabbing them by their genitals without waiting for consent). Unlike most campaign stories, Trump's remarks grabbed the attention of nearly the entire American electorate. Then, on Sunday night, before an audience of 66.5 million, the GOP nominee claimed that he had never kissed or groped a woman without her permission.

Days later, several women came forward with allegations of sexual assault against Trump. Many claimed that they were inspired to do so after seeing the Republican standard-bearer's blanket denial at the second presidential debate.
But is that claim really credible? Isn't it more likely that the Clinton campaign dispatched private investigators to every corner of the country to seek out women who had been groped by Donald Trump, and then — once they had identified a random handful of women who had been, or at least were willing to say that they were — instructed those women to keep their allegations quiet until the week of October 10, when two of them would go to the New York Times, while another would give her story to the Palm Beach Post, since that paper's relative obscurity would make the idea that Clinton had planted the story seem preposterous? Doesn't that just make more sense?

If you find that reasoning compelling, you might be Joe Scarborough.
"I'm skeptical about the timing of all of this dropping. Talk about an October surprise," the host of MSNBC's Morning Joe said Thursday. "When, as you said, there have been a thousand triggering events. If I had been sexually harassed by this man, the Megyn Kelly story would have given me an opportunity … I'm just asking why, suddenly, all of this stuff is blowing up in October. Perhaps, it's all innocent … I'm just saying skepticism is a good thing."
Scarborough's skepticism centers on the question "Why are women only coming forward now, when Trump has been campaigning as a misogynist for over a year?" There are at least three simple answers to this question:
1. The number of Americans closely following the presidential election is much higher now than it was when Trump was feuding with Megyn Kelly during the GOP primary.
2. Women did come forward with accusations of sexual assault months ago. The New York Times ran a long story on Trump "crossing the line" with women — including, allegedly, kissing and groping them without their permission — back in May. A former Miss USA–pageant contestant claimed that Trump had groped her in a Facebook post published in June. And the full trail of sexual-assault allegations against Trump goes back decades, to depositions from the mogul's first divorce, in which Ivana Trump accused her ex-husband of rape.

3. Last week, a video of Trump all but confessing to sexual assault surfaced and became both the biggest news story in the United States and the subject of one of the first questions at a presidential debate.
On this last point, conservatives may have some cause for griping. While there's no reason to believe that Trump's latest accusers were saving their allegations for October, there's some evidence that NBC was saving its Access Hollywood footage for the right moment. Earlier this week, anonymous NBC executives told TMZ that the network had known about the tape for at least two months. According to TMZ's report, NBC had planned to release the video before the second debate, but decided to bump it so the story wouldn't compete with Hurricane Matthew for attention. This narrative is disputed by the network, but it's plausible.
Still, it's worth noting that NBC is closely guarding the mother lode of Trump hot-mic videos — the outtakes from The Apprentice. The Clinton campaign is not pulling the Peacock's strings.
The fact that we are talking about Trump's sexual misconduct in October is not a product of some Clintonian conspiracy. Rather, it's the product of the Clinton campaign's competent messaging.
There's no question that the Democratic nominee wanted the media to put its spotlight on Trump's misogyny this month. Which is why she brought up the story of Alicia Machado at the first debate, and launched an ad starring the Miss Universe winner immediately afterward.
And, even before the Access Hollywood video dropped, the Machado story had sparked multiple news cycles about Trump's long history of misogynistic comments and behavior. If America never became privy to Trump's backstage conversation with Billy Bush, then we'd be talking more about the "Howard Stern tapes" — particularly, the clip in which Trump brags about his habit of deliberately walking in on beauty-pageant contestants while they're changing. Which, like Trump's boasts about sexual assault, were subsequently corroborated by multiple beauty queens, including contestants in Miss Teen USA, a pageant that included girls as young as 14.
Over the past 48 hours, many conservatives have suggested that the liberal media suppressed news of Trump's raging misogyny throughout the GOP primary, and then unleashed all the worst bits right when it would do maximum damage to the Republican Party. This idea is absurd. One of the first questions at the very first GOP debate concerned Trump's history of demeaning comments toward women. Newspapers and magazines dug into past allegations of sexual abuse against Trump and aired them ahead of Super Tuesday.
GOP opposition researchers may not have had access to the Billy Bush tape. But no special access was required to dig through the archives of Howard Stern's show. If Marco Rubio wanted to make Trump's mistreatment of women a central story line in the GOP primary, he could have introduced Alicia Machado's story at a Republican debate. Or his campaign could have leaked Trump's most retrograde Howard Stern comments to CNN. Or he could have highlighted the many accusations of sexual assault already reported and on the record. He chose not to do so.
When Trump's misogyny was raised at that first debate, the mogul argued that any objection to his treatment of women was an example of political correctness run amok. There were nine other candidates on the stage that night. None saw a political advantage in challenging the mogul's assertion. Conservatives should ask themselves why that is.