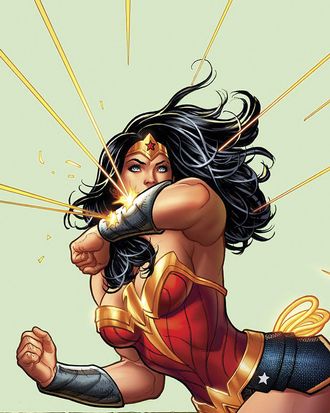 Back in August, United Nations Secretary-General Ban Ki-moon said he hoped that his successor would be a woman, which would be a first in the U.N.'s 70-year history. That did not happen. António Guterres of Portugal will take office in January 2017 – but last week, they did appoint Wonder Woman, the fictional comic-book superhero, "as an honorary ambassador for 'the empowerment of women and girls.'"

The decision inspired both breathless praise and criticism online, and now, the New York Times reports that U.N. staff members have started a petition asking the organization to reconsider their choice in advance of the official ceremony honoring the character. (Also according to the Times, "Several United Nations officials have expressed concern" about the Wonder Woman campaign in private.)

Per the petition:

Wonder Woman was created 75 years ago. Although the original creators may have intended Wonder Woman to represent a strong and independent "warrior" woman with a feminist message, the reality is that the character's current iteration is that of a large breasted, white woman of impossible proportions, scantily clad in a shimmery, thigh-baring body suit with an American flag motif and knee high boots –the epitome of a "pin-up" girl. 
They're looking for 1,000 signatures and urging the secretary-general to "consider the appointment of a real life female role model that women and girls the world would be able to look up to, irrespective of their cultural background."

No word yet on how many times Emma Watson has signed it.