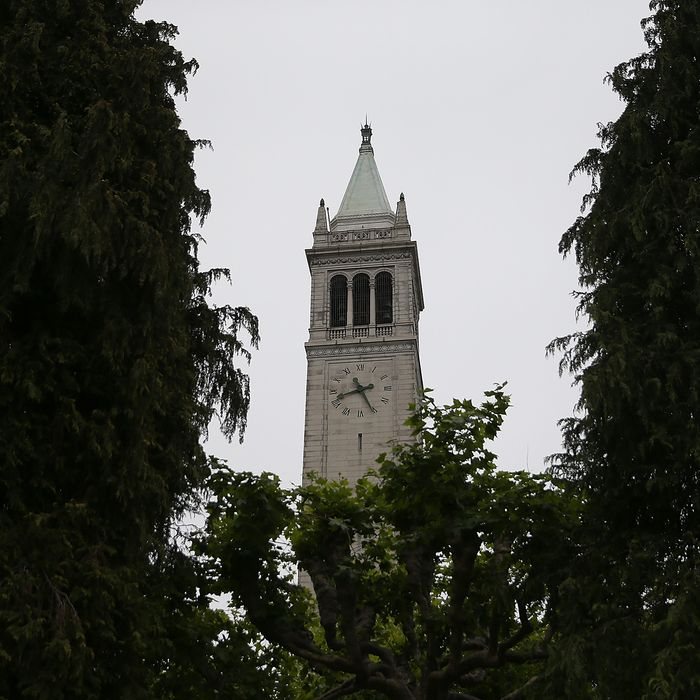 UC Berkeley.
Photo: Justin Sullivan/Getty Images
UC Berkeley's student leaders recently took an unusual step to try and combat campus sexual assault: Parties with alcohol at the school's dozens of fraternities and sororities will no longer be allowed. The decision comes after reports from two women who say they were sexually assaulted at Greek parties the previous weekend, according to SF Gate.
The two women reported separate sexual assaults at different fraternity parties that have yet to be identified. "For now we have no reason to believe that these were committed by fraternity men," Daniel Saedi, president of the Interfraternity Council UC Berkeley, told CBS. "However, despite that, it's still alarming it occurred on our property." While it's relatively rare for Greek organizations to voluntarily suspend their own parties, it's a move intended to buy time for student leaders to figure out a solution. Until new risk-management systems are passed, the ban will remain in place. (Though, it should be noted, the ban doesn't impact 11 other unaffiliated Greek parties.)
UC Berkeley, like many college campuses across the nation, has been struggling with how to address sexual assault on university premises and among college students. In 2015, 22 rapes were reported on UC Berkeley's campus or in student housing; four rapes were reported off-campus.